When I was a kid and the original "The Fast and the Furious" came out, I'm pretty sure I loved it because car chases and explosions were basically what I was after back then. "2 Fast 2 Furious" was so terrible and "Tokyo Drift" was so ridiculous that the franchise became a bit of a laughingstock. But it was 2009's series low point, "Fast and Furious," that made me actively hostile toward Vin Diesel and company.
That annoyance was pretty short lived, since it was 2011's "Fast Five" where the series mostly got rid of its street-racing side quests and became focused on an incredibly convoluted plot tying all the movies together, with somewhat low-rent "Mission Impossible-"esque stunts and fights. "Fast Five" wasn't just a great "F&F" movie, but a legit contender for one of the best action movies of the century so far. My somewhat ironic love of these dumb ass movies went from guilty pleasure to downright enthusiasm.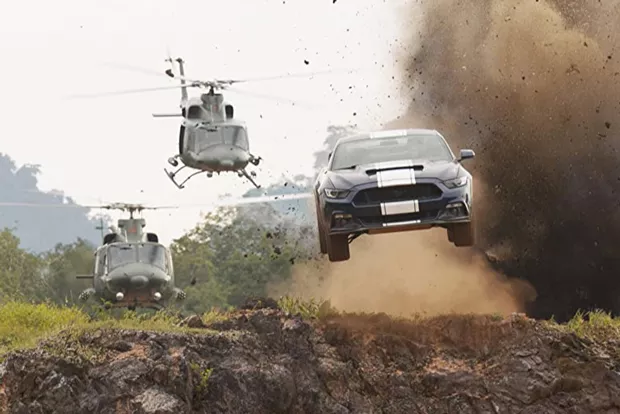 Courtesy of Universal
If 153 minutes of this is what you need, then F9 will deliver it to you.
While "Fast & Furious 6," "Furious 7" and "The Fate of the Furious" never quite reached the highs of Five, they all still have so much to recommend that it's hard to be embarrassed. Whether it's The Rock flexing so hard his cast shatters, Jason Statham kicking nameless goons in the face while carrying a baby or Charlize Theron's cartoonishly evil villainy backed up by horrific blonde white-lady braids, it's been a good time to be a fan of "F&F."
But with "F9," we might have a problem once more. See, the true beating heart of the franchise was Paul Walker, who tragically passed away in a car accident while filming "Furious 7." The Rock gave the series a big, goofy brain and some blockbuster credibility and Jason Statham provided "F&F's" martial arts bona fides, but they moved on to greener pastures and a spin-off franchise of their very own. So now we're left with just Vin Diesel front and center, and he's always been the least interesting thing about the whole series.
He tries really hard, and so do series veterans Michelle Rodriguez, Tyrese Gibson and Ludacris, but the series feels hollow with this ninth installment and it's starting to seem like maybe the tires are growing a little bald. Don't get me wrong, "F9" is still extremely and stupidly entertaining and if the thought of hearing Cardi B talk about biometrics or seeing Luda go to space brings a smile to your face, then the franchise still has what you're looking for.
However, whether it's new series villain John Cena's film-length long grimace that looks like he's holding in a particularly dangerous poop or a criminally wasted Charlize Theron hunting for any and all scenery she can chew, "F9" has put the series in the dangerous place of feeling like a parody of itself. Kurt Russell and Helen Mirren even show up in cameos designed to remind us that they're in this series, dammit, but it's Nathalie Emmanuel's British hacktavist Ramsey that almost threatens to steal the entire movie.
Vin Diesel has one note, and while he hits that note as well as can be expected, it's not a charismatic one. Without The Rock's charm, Statham's badassery or Paul Walker's bro-tastic Johnny Utah vibes, we're left with some amazing action sequences tied together with only Diesel's monosyllabic growl, and it's not enough to sustain the series much longer. If Hollywood is to be believed, the franchise will either end or be rebooted with the upcoming 10th installment, and that seems like the right choice all around. I still love these movies dearly, but I would rather see the series cross the finish line strong than limp its way home, drunk on the glories of yesteryear.
F9: The Fast Saga
Dir. Justin Lin
Grade: B
Now Playing at Old Mill Stadium 16 & IMAX and Odem Theater Pub