On a recent snowy afternoon, climber Mira Capicchioni warmed up inside the Bend Rock Gym with a handful of her teammates from Bend Endurance Academy's climbing program. They hung around the bouldering section of the gym, which features diverse climbing terrain peppered with color-coded plastic holds and "volumes," or larger features. After watching her friends tackle various "problems"—the climbing parlance for a bouldering route—Capicchioni attached herself to one assigned an advanced V9 difficulty ranking.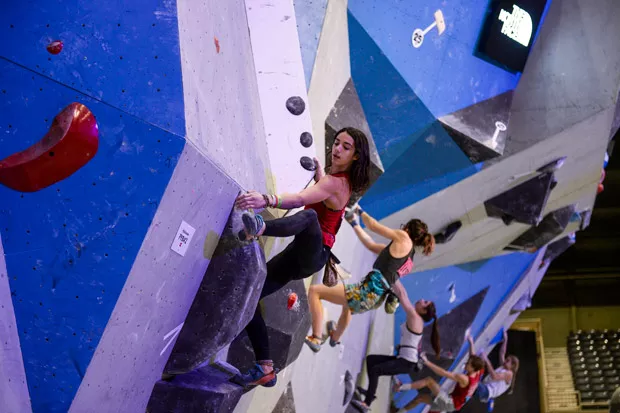 Lisa Capicchioni
Mira Capicchioni won the Female Youth category at Nationals in February.
Capicchioni twisted and contorted, working herself up the wall. Sometimes she crimped her fingertips; other times, she splayed her fingers wide to grip car bumper-shaped holds. After reaching the top of the route, about 15 feet high, she dropped to the pad, landing on her feet. Capicchioni had just "flashed" the route, or completed it on her first try.
"Whoa, nice job, Mira," a nearby climber hollered as several others clapped.
Flashing problems, along with "on-sighting" them — or conquering them in the first go without analyzing them first—is becoming Capicchioni's calling card. At the USA Climbing Bouldering Youth National Championship, held at the Deschutes County Fair & Expo Center in Redmond in February, Capicchioni, 13, cinched the Female Youth B category—which includes 13 and 14 year olds—with 75 points, .2 points ahead of the second-place finisher. Capicchioni sent three perfect ascents in the final round, requiring about 10 moves each.
The 8th grader at Cascade Middle School, whose Italian last name is pronounced cap-i-key-oh-knee, just finished a perfect season with first-place finishes in her category. Capicchioni will travel to the International Federation of Sport Climbing Youth World Championships in Arco, Italy, this August as a member of the U.S. Youth National Bouldering Team, competing in the female youth B boulder category.
Meanwhile, Nathaniel Perullo, 10, also a member of BEA's climbing program, snagged a second place finish in the final round of the Bouldering Youth Nationals' male youth D category, which includes climbers 10 and under. The B category is the youngest category at the world championships.
"I was just super excited and also kind of nervous," said Capicchioni. "I've never been to a world championship."
While her easy humility belies her raw passion for climbing, her muscular arms allude to the time she spends on the wall and lifting weights. At this practice, Capicchioni and her teammates enjoyed a laid-back session, since many had worn their arms out shoveling after Bend's recent historic snowfall.
From trees to bouldering problems
Capicchioni began climbing when she was 8. Her mother, Lisa Capicchioni, had previously worked as an outdoor guide and educator for public and private schools in Los Angeles County. Often leading field trips to Joshua Tree National Park, rock climbing was part of her job description.
"I was always up on the top of a tree," Mira said. "I was always jumping from one thing to another in parks and stuff. I guess it wasn't too surprising."
A trip to visit extended family in Portland, in which Mira and her cousin were "climbing everything," made plain her passion for climbing. A neighbor boy, who competed in youth climbing events, encouraged Mira.
"Their son was like, 'You should be climbing,'" Lisa said with a laugh.
Mira's mom began by showing her the basics of bouldering at Joshua Tree. Before Mira joined Bend Endurance Academy's climbing program at age 10, she was the only one of her friends who climbed and only one of two female climbers in the program, she said. Attending practices, split between BEA's four bouldering walls and Bend Rock Gym, was eye-opening.
"Everyone was doing really amazing things," Capicchioni said. "You were doing things with other people, and you could challenge yourself."
Soon, girls older than Capicchioni joined BEA. High school sports tend to direct some youth climbers' attention away from the wall—but not Capicchioni, whose only other sports are snowboarding and Nordic skiing.
Among professional climbers, Capicchioni admires the low-key, quick-to-laugh nature of Alexandra Johnson, a 29-year-old pro and two-time World Cup gold medalist. She finds Johnson a useful reference for maintaining composure at climbing competitions.
"It's really just fun to watch her. She's always happy no matter what outcome happens," Capicchioni said. "Other (competitors) will just focus on the route, but Alex will turn around and laugh if she does something funny."
Mike Rougeux, BEA's climbing director, encourages this sustainable stoke. He's brought climbers to junior national competitions since the mid-2000s, when he began coaching. This year, BEA took five qualifying climbers. Climbing's growing popularity means junior national championships are now held in expo centers like Redmond's. No longer can mere climbing gyms accommodate the onslaught of climbers and spectators, Rougeaux said. While the problems climbers encounter in competitions are set by official setters with USA Climbing, local climbers still enjoy a home court advantage as their climbing peers, friends and family members show up in droves to cheer them on. The adult bouldering championship was also held at Deschutes County Fair & Expo Center in early February.
Another start in the trees
Many youth climbers transfer a love of climbing trees to the problems at climbing gyms. Rougeux chuckled when he heard about an instance in which Perullo, while attending a gathering with his mother Nicole Perullo in their native California, climbed to the top of a 40-foot redwood tree. Nicole was less worried that Nathaniel couldn't get down—she knew he could—than she was annoyed that he had worried some partygoers, said Yon Perullo, Nathaniel's father.
Yon Perullo
Nathaniel Perullo climbs during a recent competition.
Nathaniel, a 5th grader at William E. Miller Elementary School, has climbed since he was 7. While hiking, the family came onto a group of climbers who were bouldering above a protective crash pad.
"I asked to do a boulder problem," Nathaniel said. "They didn't think I could do it. When I got to the top, they said I had to go to a climbing gym."
Yon soon brought his son to a gym where they lived in the Bay Area, and Nathaniel began competing soon after. Bend's rock gym and proximity to Smith Rock State Park, a national climbing destination, were among the reasons for the family's relocation to Bend in 2017.
Kids in the sport
USA Climbing, which counts about 12,000 members, has seen a 30-percent annual growth among members in recent years, according to the organization.
"Kids are pretty natural at climbing," Rougeux said. "Especially if they're allowed the freedom to do it. It's also a good way for kids to begin learning proper risk assessment, which doesn't happen that much anymore when they're just told yes or no."
Youth climbing competitions test kids' natural abilities and technical skills as much as the ability to stay calm under pressure. Unlike running races, in which competitors usually clock consistent times, climbing competitions are far from predictable, Rougeux said.
"With climbing, they could make one tiny mistake where their foot slips, and they go from first to sixth place," Rougeux said. "You know (the kids) are capable, but they're not shoo-ins."
The competitors at the Redmond competition advanced through a qualifying round of four bouldering problems and semi-final and final rounds featuring three problems each. Many attempts are made or broken by moves considered "high-risk," not for the inherent danger, but for the technical skills needed to pull them off. Route setters separate the field by requiring these high-risk moves.
During warm ups, Capicchioni's presence was smooth and powerful, her coach said.
"I was like, 'Wow, she's going to win. She's just on.'" Rougeux said, noting how Capicchioni tackled each route in only one try. "The drama is: Are they going to keep the momentum going? There is no margin for error."
Rougeux says when he began coaching, climbing was enough of a fringe sport that a climber could do well in competitions by only having abilities that were "OK." That bar has been subsequently raised by youth climbers like Perullo and Capicchioni, and the proliferation of climbing gyms and programs, like BEA's, throughout the country.
Yon Perullo
The entire Bend Endurance Academy team turned out to support Capicchioni and Perullo at Nationals.
"The (competitor) pool is so wide now, climbers need to have a natural capability and, like any athlete, they have to be willing to put in the time and the work," Rougeux said. "The talent will only take them so far."
Advancing to the final round in the National Championship was Capicchioni's goal for the year.
"I just went out there thinking whatever happens, happens," she said.