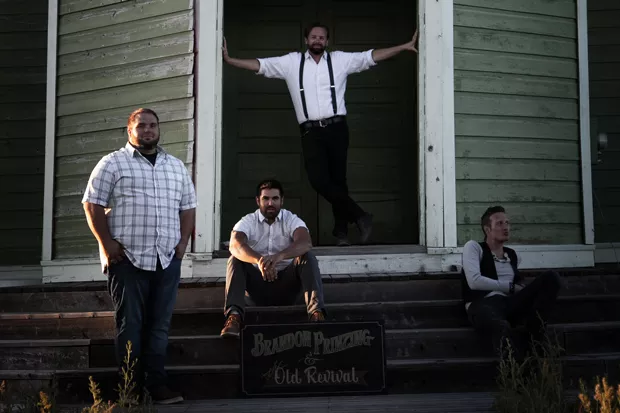 Submitted.
Brandon Prinzing steps into the spotlight to lead folk-meets-punk rockers Brandon Prinzing and the Old Revival.
The last time we checked in with Brandon Prinzing, he'd brought his scratchy vocals and folk-meets-punk sound to the helm of the now-defunct local band, Riot on a Sunday. Nearly a year later, he's on the cusp of releasing his first album under the moniker Brandon Prinzing and the Old Revival. The album is helped along by producer Aaron Gillespie, best known as the drummer for metalcore band Underoath and lead singer of alt-rock band The Almost.
"I made the album with Aaron—and they were songs that I had written that I reimagined when I made them in the studio—they came to life," Prinzing says. "When I came home, I felt like it was a new beginning and I wanted to take things in a new direction."
Prinzing had been sitting in with former Bend-based band Onward, Etc., who had been on tour with Gillespie. Prinzing and Gillespie became fast friends. He played some of his original songs for Gillespie, who asked him to meet him in New Mexico after the tour to record an album.
"Growing up, I was a big fan of Gillespie," Prinzing admits. "It wasn't just some guy. I once drove to Seattle to watch him when I was 17. I was a big fan of The Almost and Underoath. He was really supportive and cool and we set a date and I flew out there and we made it in five days. It was one of the hardest and most stressful and greatest things I've ever done."
Prinzing recorded the Riot on a Sunday album alone in his bedroom out of necessity. He wanted to learn how to record an album, so he did. He learned a lot of second-guessing occurs. He wore all of the hats, but didn't have someone with confidence and vision there to enhance the final product.
"Without a doubt, he pushed me to do my best — more than I'd ever been pushed musically, vocally and conceptually," Prinzing says of working with Gillespie. "He allowed things to breathe where they needed to breathe. He put a touch on the songs that I didn't know they needed. A lot of the stuff, I had the bones ready to go and the changes he made gave it a pop. He made it more cohesive."
The night before the last day in the studio, Gillespie told Prinzing that he needed a mid-tempo song to complete the album — something in the vein of "One Headlight" by The Wallflowers. Prinzing felt inspired, went to his hotel room and returned to the studio the next day with "Bitter Cold," a song he says has gone on to become many people's favorite.
"For me, it makes me feel alive because I write from a really emotional place. When I'm playing something, I feel it. It's just in me, it was born in me. There's no way I can phone it in," Prinzing says.
About a year ago, Prinzing decided to give his goal of becoming a career musician a real shot. When he returned from New Mexico, Jesse Martinez, who played in Riot on a Sunday, stayed on to play bass and recruited his friend Gus Hulstein to play drums. Jared Britton joined them on lead guitar.
"After a lifetime of searching, I've found a home with the people I'm supposed to be doing it with," Prinzing says. "The quality is there but I didn't have to sacrifice the fun, it's still like you're doing it with your friends. You spend a week with someone like Gus and it feels like I've known him forever. I don't remember a time not knowing them. I think that cohesiveness plays on stage, understanding what the other one is going to do, it's intuition."
Brandon Prinzing and the Old Revival
Sat., Oct. 13. 8pm
Domino Room
51 NW Greenwood Ave., Bend
$10