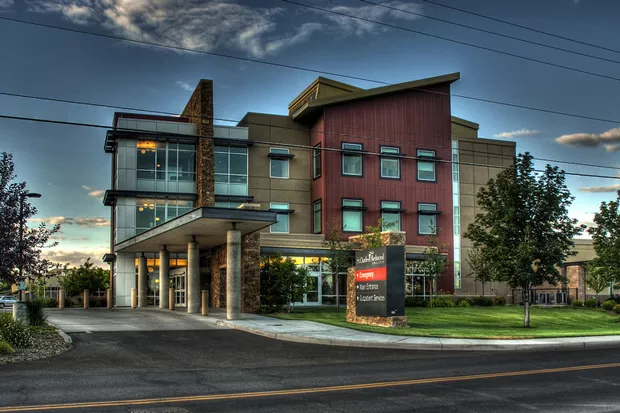 James Sale
St. Charles-Redmond may close its Family Birthing Center.
St. Charles Health System—the largest medical provider in Central Oregon—is considering changing the way the Family Birthing Center in Redmond operates, or may even close it outright.
Iman Simmons, St. Charles' chief operating officer, said the purpose is to improve the quality and safety of care and to do those things at a lower cost across St. Charles.
"Right now, St. Charles delivers babies in three different communities: the Madras community, Redmond and Bend," Simmons said. "And those three models of care are very different."
According to St. Charles, caregivers and providers from throughout St. Charles Health System—in addition to community partners including Deschutes County Public Health, Indian Health Services in Warm Springs and the East Cascades Women's Group—participated in a five-day Value Improvement Practice event in September to develop three proposals for the Redmond FBC. The proposals will go to the St. Charles Executive Care Team for review Oct. 17, then to the Board of Directors before a final decision.
The three proposals currently on the table include one that proposes the closure of the 12-bed Redmond FBC, keeping the Center for Women's Health, adding an obstetrician hospitalist and midwifery to the Bend Family Birthing Center and providing greater resources to the five-bed Madras Family Birthing Center. With the second option, Redmond FBC would become a low-risk birthing center, the OB hospitalist would move to Bend, the Center for Women's Health would remain, and more resources would move to Madras FBC. The third option is to close the Redmond FBC, move the Center for Women's Health from Redmond to Bend, add the OB and midwifery to Bend and enhance Madras.
Simmons said about 500 babies are born annually in Redmond. Those would shift to Bend, but all the other types of clinics in Redmond would remain.
"The reason behind that is, right now, the Redmond occupancy for that birth center is 43 percent and Bend is at 48 percent occupancy, and a healthy occupancy, both for efficiency and financial stability, is somewhere between 60 and 70 percent," Simmons said. "So we're not able to maximize what we're able to do for women and newborns when they're kind of spread across two different facilities like that."


Gary Aguiar, labor relations representative for the Oregon Nurses Association, disagrees with St. Charles' assessment of the Redmond hospital's financial situation.
"St. Charles-Redmond has earned double the profits of the statewide average of 60 hospitals in each of the last four years," Aguiar said, referencing profitability information from the Oregon Health Authority. "This is not a merger of services, but the relocation of services to one distant location: Bend. The closing of family birth in Redmond would leave our community without vital services, especially at risk for poor birth outcome and even avoidable deaths."
Aguiar pointed to other profitability information from the OHA that shows Redmond and Prineville hospitals are more profitable than Bend. According to the chart, Bend's profit margin declined to 2 percent in 2017. Conversely, Redmond's profit margin was 8.3 percent and Prineville's profit margin was 10.9 percent.
Simmons said under the second proposal, which would make Redmond a low-risk birthing center, midwives would be the primary providers. But, she added, in order for it to be financially feasible, there really needs to be a certain volume of low-risk births. Right now, all the high-risk births go to Bend because that's where the neonatal intensive care unit is located.
According to St. Charles, the team making the proposals focused on making data-driven decisions related to the quality of care, with a goal of reducing the cost of providing women's and newborn services by 15 percent.
The nurses' union isn't the only one against closing Redmond's FBC.
"Closing FBC in Redmond would mean that patients would have to travel farther for their appointments and during their labor, a decrease in surgical services, an increase in admission times and decreased availability for inductions both medical and non-medical, said Amber Loredo, a Redmond FBC nurse since 2011. "It would result in fewer choices for women to birth their babies in Central Oregon."
"There's definitely a lot of sensitivity and emotion around this issue," Simmons said. "Redmond Family Birth Center providers and nursing have tremendous pride in what they do and what they deliver, so there's definitely concerns."
Aguiar said the decision is being made without the knowledge or input of people who live in Redmond.
"Redmond residents should have an opportunity to participate in the decision-making process," Aguiar said. "Hospitals are public treasures, like schools and libraries—our community should have a voice in its operations."
The ONA is holding a meeting at the Redmond Public Library Monday, Oct. 15 at 6:30 pm, where Redmond nurses will provide information about the possibility of the Redmond FBC closing.