Flickr/U.S. Forest Service
A smoke sunset in the Klamath National Forest.
A
ccording to the National Interagency Fire Center's Predictive Services map, the month of August could be scary in regard to wildfires. The map shows the entire state of Oregon as above normal for significant wildland fire potential—in fact, the map shows most of the Pacific Northwest as above normal, including most of Montana.
There are 16 wildland fires currently burning in Oregon, according to data from the
NIFC
. The largest one is the 33,451-acre Long Hollow fire that's 95 percent contained burning 5 miles south of Dufur, which is on Hwy. 97 south of the Dalles. Southern Oregon is facing the worst of the fire season so far. NIFC data shows there are 12 of the 16 fires burning in that region.
So far Bend has escaped any large wildland fires, although the town's had some close calls. The
4th of July fire that started on Pilot Butte
could have done much more damage, and the Bessie Butte Fire also could have turned ugly.
The Carr fire near Redding, Calif. started on July 23 from a mechanical failure on a vehicle, according to Cal Fire. As of Aug. 3, it burned over 131,000 acres, killed two firefighters, destroyed 1,067 residences and 19 commercial structures, Cal Fire's data said. Over 4,300 personnel, 17 helicopters and 84 water tenders have fought the blaze so far. According to a story on
USA Today
, the current cost of fighting the Carr fire is $24.3 million. The fire is only 39 percent contained, according to Cal Fire.
Across the nation there are 106 major wildland fires raging. According to the NIFC, as of July 27, the national preparedness level is 5 on a scale of 1-5.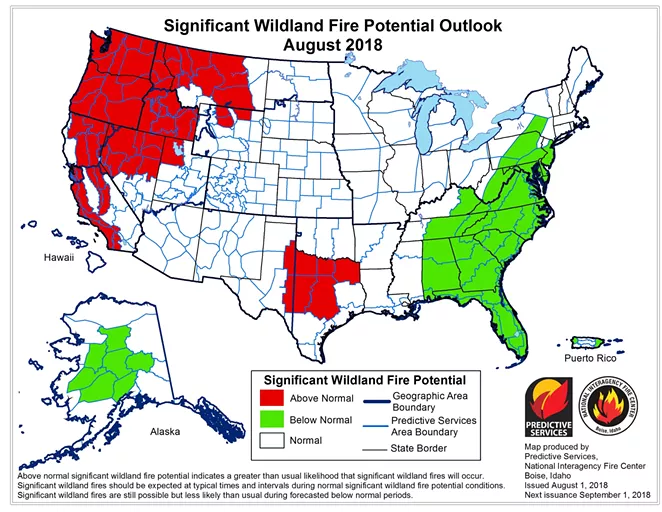 National Interagency Fire Center