Week after week, year after year, the Source eating (and drinking) team has a tough job: Eat (and drink). And then tell readers what we thought about it.
It's a challenging gastronomical feat under any conditions, but once a year, the stakes get higher. Every spring, the Source eating (and drinking) team sets its sights on naming a Restaurant of the Year, in addition to a Rookie of the Year and a Food Cart of the Year. As you'll see by reading this week's Restaurant Guide (inserted into this very issue), the challenges were so great and the options so many that this year, we had to launch a fourth category: Rookie Food Cart of the Year.
For this week's Chow column, we've opted to open a window into the world of the Source eating (and drinking) team, showing you part of our process in selecting and then documenting the 2019 winners.
This process is quite different than our summertime Best of Central Oregon contest, in which we open up the voting to you, the loyal readers, to vote for your favorites in a host of categories. Here, we use our own expertise—gleaned from years sampling and writing about food—to nominate, discuss and select the eventual winners. (And hey, we're journalists, so you can bet that most of us also toiled in restaurants and bars while working our way through the unpaid internships so ubiquitous in our industry...)
See more great info on each of the spots mentioned here in the Source's 2019 Restaurant Guide!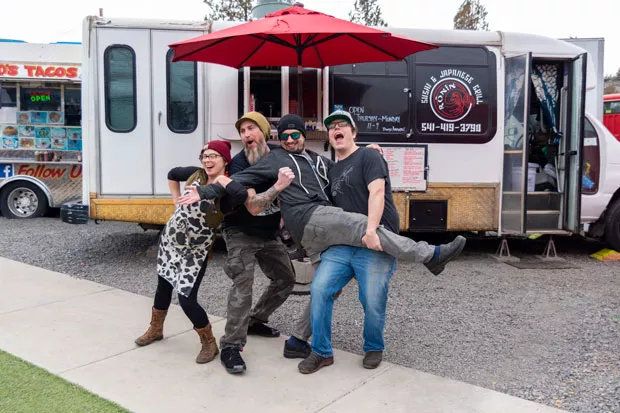 Daniel Robbins
The Ronin team, from left, including Hot Line Chef Monet Rogers, Chef-Owner Scott Byers, Sushi Chef Gianni Mancuso and Sous Chef Jake Peterson, strikes a playful pose during the photo shoot with photographer Daniel Robbins.
Daniel Robbins
The Source eating (and drinking) team met at Hogan's one Saturday to be extra-super sure we should create the new Rookie Food Cart of the Year category, and should give it to Hogan's. Here, Source Copy Editor Richard Sitts tests out the goods. He approves.
Nicole Vulcan
Ace photographer Daniel Robbins shot all the winners' photos for this year's Guide. Here, we capture him setting up a shot at Hogan's Hoagie Stop. Whose beer is that?!
Nicole Vulcan
For those not familiar, this is not a "dumb" phone, nor a "smart" phone, but a land line phone. It was used to call the businesses listed in the Restaurant Guide, ensuring their info is accurate. Of course, things change often, so when in doubt, call ahead.
Nicole Vulcan
The team at Ronin Sushi and Japanese Grill—our Food Cart of the Year—sent photographer Daniel Robbins home with a series of hand-written notes, explaining stuff about the food. Hand-written notes stuck in every crevice of our notebooks help us stay organized during this hectic issue.
Daniel Robbins
The pineapple serrano margarita literally sends the Source eating (and drinking) team into paroxysms of joy—one of the many reasons they earned our Restaurant of the Year status.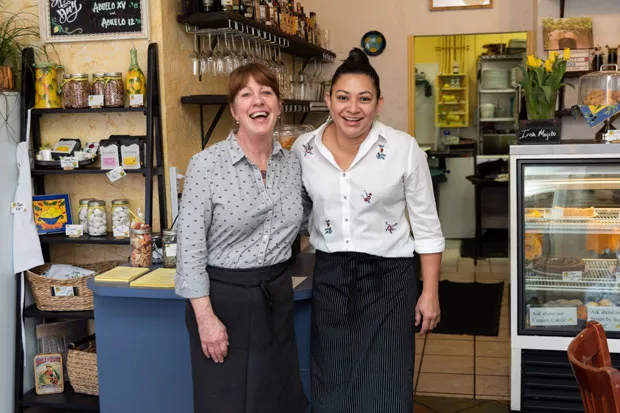 Daniel Robbins
An outtake from the shoot at Rookie of the Year, The Lemon Tree, when chefs Besty McDonald and Jaclyn Perez shared a laugh.