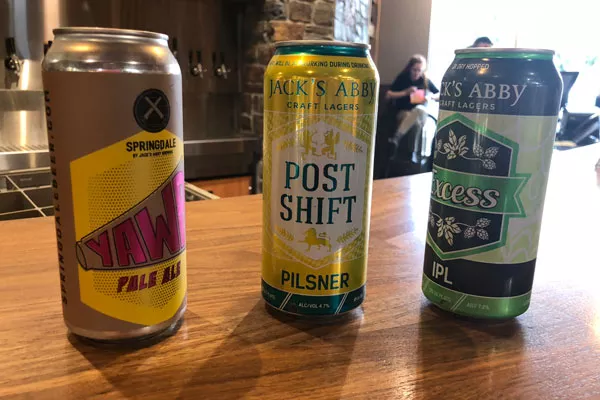 Source Staff
Get 'em while they're cold—these visiting New Englanders won't last long.
One can argue, with some credence, that craft beer as we know it today began in the West. Sierra Nevada Brewing, the first really successful "microbrewery," launched in northern California in 1980, followed by a small avalanche in Oregon when brewpubs were legalized in the state in 1984. Now there are hundreds all up and down the coast, firmly established and—with some exceptions—not heavily supported by Eastern craft breweries.
This is understandable to some extent, because out-of-state brewery distributing in Oregon faces an uphill battle. Craft lovers have a heavy preference for beers made within the state, or even within their hometown, so only the really adventurous are going to shell out for something from Texas or Ohio or whatnot.
That's why it's always a surprise when a big name from the East shows up here, across the flyover states—such as what happened last month in southern California, when The Alchemist received some limited (licensed) distribution. Vermont-based The Alchemist is the outfit behind Heady Topper, the first "New England IPA" to attract a major following and the beer at the root of the hazy-IPA craze that's now gone nationwide. Thus, Heady and its cousin, Focal Banger, are now enjoyed up and down San Diego—although given that SoCal now has eight million hazies of its own to sample, the impact of this news may not be what it once was.
Meanwhile, in Oregon, Portland-based Day One Distribution has been working hard to bring similarly exotic ales to the West. Their latest coup: Jack's Abby Craft Lagers, along with Springdale Ales, the label for their more experimental releases.
Founded in 2011 in Framingham, Mass., Jack's Abby (named for co-founder Jack Hendler and his wife, Abby) specializes in lagers, as its name suggests. This puts it in the same boat as Heater Allen over in McMinnville, Ore.—and indeed, Jack's House Lager, which is available around Bend now, is modeled after the countryside beers of Bavaria and perfect for quaffing on a hot summer's day.
Other varieties available around Bend in cans include Excess, an India pale lager that starts out light but then kicks with a 7.2 percent bite, and Post Shift, an everyday sort of pilsner that works as a palate cleanser after Excess. Sadly, the Oregon Jack's launch missed the season window for Framinghammer, a 10 percent Baltic porter and arguably the brewery's best release; that comes out January, usually with many bottled variants.
Springdale, meanwhile, is basically the label Jack's Abby uses for things that aren't lagers—in particular, things in barrels and probing the far reaches of what beer can do. On tap now is Yawp!, a pretty laid-back pale ale, but the big one to look out for is Cuvée d'Or Rouge, a Flanders-style blend of oak-aged sour brown and golden lagers. The results very carefully toe the line between puckering and merely tart; a difficult balancing act.
So wish Jack's Abby a fine welcome to Oregon—because like most of Day One's other labels, this is strictly a limited-time vacation for these New Englanders.