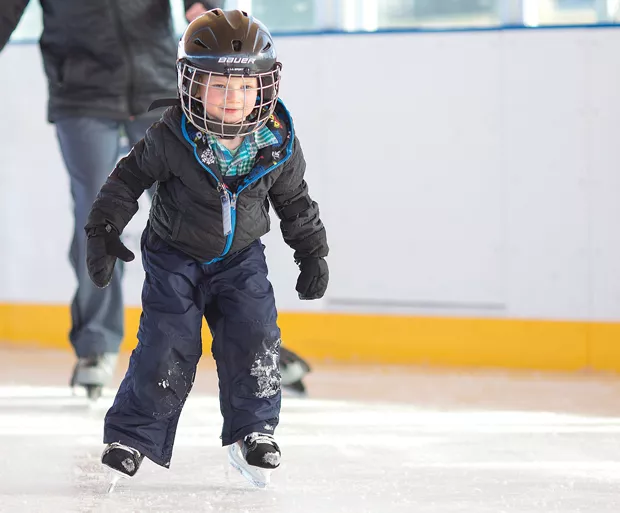 In a region as amped on winter sports as Central Oregon, there's really no sense in delaying the inevitable with young children. Whether enrolling them in group lessons, privates or settling on parent teaching, there are ample opportunities to get kids started on being comfortable in this winter recreation mecca.

Skiing and Snowboarding
When learning to downhill ski, pizza slice and french fry are a child's primary goals. The "pizza slice" refers to the wedge-shaped snow plow that instructors teach as a way to slow down, while the "french fry" is lingo used to indicate straight skis, a position for speed and heading downhill. Hoodoo and Mt. Bachelor offer lots of options to get kids started with this.
Hoodoo's Mountain Cub Program Supervisor, Rhonda Townsend-Schantz, certified by the Professional Ski Association as a child ski specialist, says teaching kids to ski is challenging and rewarding. Now in her fifth season, she knows children learn differently than adults.
"Most youngsters remember one thing at a time," shares Schantz. "We use a progression, explain with words, model the behavior, then tell the child how the behavior should feel. During the lesson, sometimes it feels like you aren't making progress but by the end of the lesson, they have learned the body positions and it all comes together."
Schantz says the best part of teaching kids to ski is playing. "To motivate the kids we sing songs, be silly, use a lot of encouragement and praise through high-fives and fist pumps. We also teach in all types of weather because that is a part of skiing. When it's cold we might take more breaks to warm up if necessary."
To make it a full snow day, Hoodoo goes above and beyond by supporting a family-friendly atmosphere in their lodge. They allow home cooking to be shared in comfortable seating areas while their restaurant offers an array of hot food and adult beverages. Parents can read, visit or ski while their children learn to shred from the professionals.
Hoodoo's Mountain Cub group lesson program is open to 4-to 6-year-olds and private instruction is available for 3-year-olds. Lessons are half- or full-day with an option to add lunch. Additional Hoodoo child-friendly options include sledding and tubing.
This year at Mt. Bachelor, Karen Bumgardner Devlin enrolled her 5-year-old daughter, Katie, in Mighty Mites, which are group lessons for 4- to 5-year-olds. "This was her first experience in snow and I wondered how she would do in the cold. Katie loved it! She had six kids in her group and two instructors, so each child had plenty of attention. Mighty Mites is a great way to introduce your child to skiing or boarding in a fun but structured environment."
Additional offerings at Mt. Bachelor include lessons through Mountain Rippers and Riders (skiing and snowboarding), ages 3.5 to 5, and free skiing for children under 5 anywhere on the mountain. Tubing is also available.
Ice Skating
From hockey to figure skating, your budding Wayne Gretzky or Michelle Kwan can learn the basics at The Pavilion or Seventh Mountain Resort. Just think, infamous Oregonian Tonya Harding began manifesting her triple axel at 4 years old, when her mom enrolled her in private lessons.
Both The Pavilion and Seventh Mountain offer toddler ice skate rentals down to a size 8, and The Pavilion also offers lessons starting at age 4.
Justin Wellman, recreation manager at Seventh Mountain Resort, says they are prepared to offer toddlers many forms of metaphorical training wheels on the ice. One helpful piece of gear is the Bob skate, a double-bladed skate which can be attached to a child's shoe for added stability. In addition, skate aids (aka skate walkers) and orange cones are available. These help children stabilize independently without the help of parents.
"Most kids rely on these aids until about age 6. First, they learn the penguin shuffle and then they start breaking away. It's cool to see a toddler learn on their own, often at the same pace as their parents," Wellman notes.
Snow Shoeing
Toddler-and family-friendly free snow shoe tours, which have been happening at Mt. Bachelor in partnership with the Deschutes National Forest for decades, are a great way to get young toddlers or preschoolers moving on their own on the snow. Right now, these tours are canceled due to the recent federal funding lapse. But, check back frequently to see if they have resumed. In the meantime, snowshoe rentals for small kids are available at Pine Mountain Sports and even fit toddler-sized feet. Why not take the family to Wanoga Sno Park for an easy snowshoe loop on flat terrain to get everyone comfortable walking in a winter wonderland!
The key to easing your toddler or preschooler into the winter recreation world is to make it fun. Limiting exposure time, making sure they are dressed warmly and providing lots of breaks and time for hot chocolate can make all the difference when it comes to a successful day on the slopes or rink. Oh, and lots of patience, too!
For more details on specific preschool and toddler offerings, contact Central Oregon recreation meccas directly:
• Hoodoo, 541.822.3799
• Mt. Bachelor, 541.382.1709
• The Pavilion, 541.389.7588
• Seventh Mountain Resort, 541.382.8711
• Deschutes National Forest, 541.383.5300
• Pine Mountain Sports, 541.385.8080