Making it through that first year of business is crucial. At least, it was a very important milestone for the owner and founder of Fancywork, Elise Jones.
Jones and the crew at Bend's store dedicated to all things yarn just celebrated the one-year mark Jan. 19. Jones said knitting isn't just a part of her livelihood now; it's also a lifelong passion.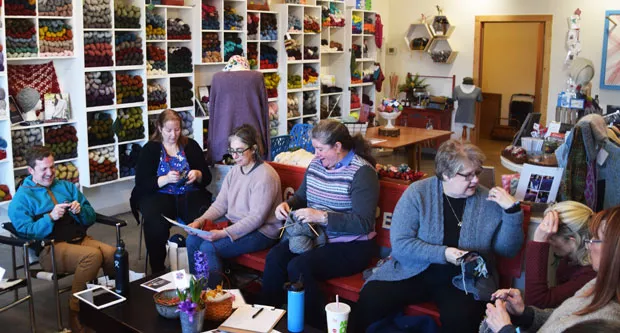 Isaac Biehl
Inside the action at one of Fancywork's Knitalongs.
"I have been a knitter pretty much my whole life," recalls Jones. "My mom taught me when I was about 8, I guess, but it didn't really stick until maybe my college years."
While her first attempt at knitting a sweater didn't really go according to plan, Jones has been hooked ever since. Having lived in Bend for 18 years (including a stint working in the Source's graphic design department), Jones has been seriously considering opening up her own yarn store for at least a decade. Timing was always the main issue, but once that fell into place, Jones was able to take the leap. A year later and Fancywork is living up to that initial dream.
"Absolutely the best moments of the year – and they keep happening, are when people come in the store and tell me how grateful they are that we're here," says Jones. "We have events where we try to get the knitting community together and when we can do that it's just really great to see lots of people so excited about knitting and getting to know one another. The community aspect is my favorite part."
Fancywork's group events include "help sessions," in which fellow knitters can drop in and get some help with their current projects. They also have weekly "Knitalongs," in which the group picks a project and they knit alongside an instructor.
"If you're not a knitter, you don't realize how many knitters there are in the world," states Jones. "In a lot of cases it's kind of a solitary craft. So I really enjoy getting people out of their solitary knitting habits and into a social knitting circle."
Like many of the sweaters hanging in the shop, this home for fiber arts and creativity is colorful and warm. When you enter you're even welcomed by yarn-covered door handles. With this atmosphere and desire to learn present, Fancywork is the perfect place for beginning knitters.
"Any mistake you can make in knitting is actually a design element that somebody has come up with," Jones advises knitters just starting out. "It kind of takes a little bit of the pressure off to know whatever you can do with your knitting, it was an intentional act by some designer somewhere else."
Knit Night
Bring whatever you're working on to the shop to sit & stitch with like-minded fiber fans
Thursdays, 4-7pm
Fancywork Yarn Shop
200 NE Greenwood Ave., Bend
fancywork.com