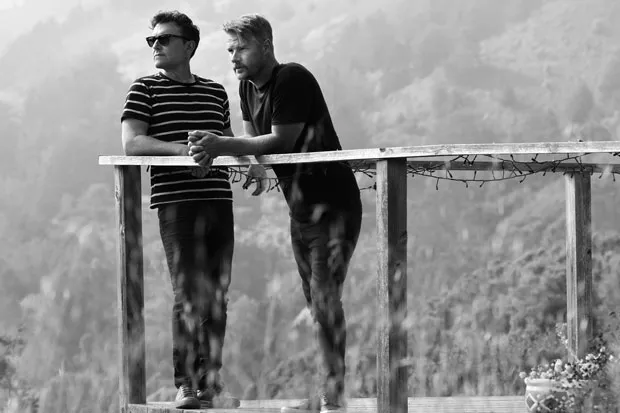 Mark Owens
El Ten Eleven convey emotions without words on their instrumental post-rock album, "Banker's Hill."
Over the last week, several people have brought up influential post-rockers El Ten Eleven. People are stoked about this show and, clearly, I'm a little late to the party, as the duo has been releasing music together since 2002 and have six self-released albums.
Better late than never, I spoke to Kristian Dunn, the band's guitarist and bassist, on the phone in advance of their show at the Volcanic Theatre Pub. An important element to note in the band's music is that they play only instrumentals, without lyrics or a vocalist.
"If anything, from what people have told me, instrumental can be better at conveying themes and emotions because the lyrics don't get in the way," Dunn said. "I think that it can go both ways. I think there's music that can be more moving and sometimes you're feeling it, but the lyrics ruin it. It can go both ways. A lot of people tell us they really love it because there are no lyrics getting in the way, and it's their own journey."
In listening to instrumental music like El Ten Eleven's, people can find their own meaning—which might be completely different than what Dunn and drummer Tim Fogarty intended. The same could be said for songs with lyrics, of course, as that's the beauty of music — it's a listener's own personal journey.
El Ten Eleven recently released their latest album, "Banker's Hill," and used an outside producer, Sonny DiPerri, for the first time. Previously, Dunn and Fogarty produced their own albums and they didn't think they wanted anyone else's help or opinions.


"On this last record, I had so many ideas," Dunn says. "I had 23 songs written. I wanted help sorting through them. I just couldn't hear it anymore; I'd just heard it too much. I wanted an objective third party and a great engineer to make it sound great sonically. We had a short list of producers to meet with and Sonny came really highly recommended. I think he made it so we could make this one of the best records we've ever made."
El Ten Eleven's music sounds like a complete six-person band. It's a surprise to know just two members perform all of the instruments and layering of sounds—all without the help of a laptop on stage. Dunn admits pulling off their sound isn't easy, but they've been working on it for 16 years now, so they make it look easy.
"It's just normal to us, but for other musicians it might be really strange. It is challenging for sure, so when we pull it off live and people cheer it's probably doubly satisfying. When people are using a laptop on stage, I don't know how satisfying that could be. Maybe our satisfaction level is higher than those who cheat with laptops," Dunn laughs.