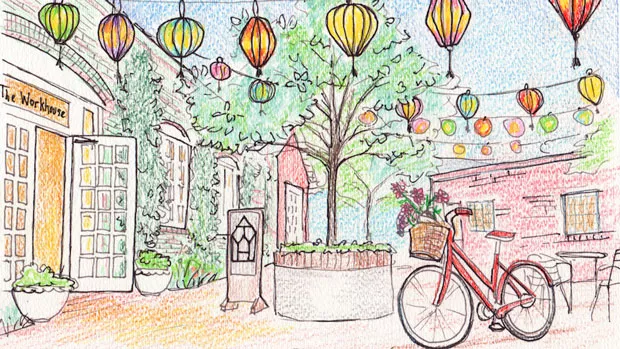 Over the past few years, leaders in Redmond have been building up their city with an influx of art in public spaces. Earlier this year, the city made a call to artists for their "Juniper Tree Invasion" asking artists to create a piece that showcases the unique nature of juniper trees. This Thursday, pieces from over 20 artists selected for the event will be revealed at Wild Ride Brewery. The pieces will circulate around the community until August when they will be auctioned off. Each piece is sponsored by a local business. This unique event was created to provide a new platform of support and recognition to local artists while bringing awareness to this new effort of public art.
Juniper Tree Invasion Art Reveal
Thur., June 21. 4-6pm
Wild Ride Brewery
332 SW Fifth St., Redmond


You don't need to wait until December this year to get your goods from local artists. The Workhouse will hold a summer Solstice Market Thursday similar to the legendary Craft-O that happens every holiday season. The event will spill out onto the patio and feature music, food from The Root Cellar and libations from Oregon Distillers. This time of the year, many artists are gearing up for summer showcases, plumping up their inventory and showcasing new designs for the first time. (Disclosure: I'm one of the featured artists. I'm offering $5 doodles from 6 to 7pm. You tell me three things you love and I will write some prose and illustrate it. I will be ending promptly at 7 pm so I can be in time for my date with Chris Isaak.)
And if you can't make it to the Thursday event, on June 23, Cindercone Clay Center, The Workhouse's neighbor, will hold its annual studio sale. The 14 artists who call Cindercone home will have lots of new work on display. This is a great time of year to see what local artists have been creating as they emerge for the summer season of craft fairs throughout the region.
Solstice Market at The Workhouse
Thur., June 21. 6-10pm
50 SE Scott St., Bend
Cindercone Clay Center Studio Sale
Sat., June 23. 9am-5pm
50 SE Scott St., Bend
facebook.com/pg/CinderconeClayCenter

Lillian Pitt Opening in Sisters
Two years ago, Raven Makes Gallery opened in Sisters, creating a gallery space showcasing the fine work of Native American artists. Now the gallery will feature the first Central Oregon gallery showcase from beloved artist Lillian Pitt in the past 10 years.
Pitt's contemporary work honors the history and legends of her Warm Springs ancestors. Working with a variety of materials, Pitt's work is often rich in both history and story. "Everything I do, regardless of the medium, is directly related to honoring my ancestors and giving voice to the people, the environment and the animals. It's all about maintaining a link with tradition and about honoring the many contributions my ancestors have made to this world," Pitt said.
Raven Makes Gallery
June 22-24
Artist Reception Fri., June 22. 4-7 pm
182 E. Hood Ave., Sisters