'Uplifted Path' 20x20 Acrylic on canvas by Karen Bandy
How do you capture the feeling of a mountain in a ring? Or the magic of a dance in a painting? Somehow, Karen Bandy does just this. Whether through jewelry or painting, Bandy has the unique ability to capture movement and the feeling it projects.

Bandy landed in Bend over 30 years ago after various stints from Southern California to Portland. It was in Portland that Bandy worked under a master jeweler, honing her craft and learning the ins and outs of the business before moving to Bend and opening her own shop. "I love redesigning and collaborating with a customer. Taking an old piece and making it new," Bandy says. Inspired by the gem she's working with, Bandy credits design skills, combined with the ability to listen to a customer's needs, as the recipe to her success.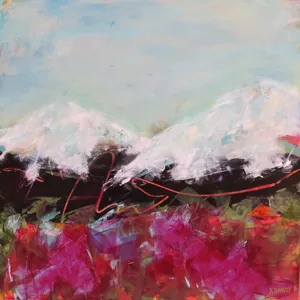 'Enlightenment thru Huckleberries' 24x24 acrylic on panel by Karen Bandy
It was the jewelry business that sparked her next passion: painting. While hosting various artists in her shop for First Fridays, she realized she wanted to give painting a try. A move into a new house with a spare room already set up as a studio helped solidify the idea, and Bandy has never looked back. That was 12 years ago.

While the two mediums might seem completely opposite, Bandy's approach to each is similar. With jewelry, she begins with the gem and allows it to inspire her with its color and shape. When painting, Bandy completely covers her canvas in magenta and yellow as her base coat, allowing that to inspire what she paints over it—even allowing some of the color to come through. Her emphases, whether creating in 2D or 3D, are color, shape and lines, inspired by architecture and the natural world. The feeling of creating, for Bandy, is the same, regardless of the medium. "The difference is jewelry is so permanent and exacting, and paint is so feeling. It is totally different, like a little release."
Karen Bandy Studio
25 NW Minnesota Ave., Ste. #5, Bend
Works on display at The Oxford Hotel through April
10 NW Minnesota Ave., Bend