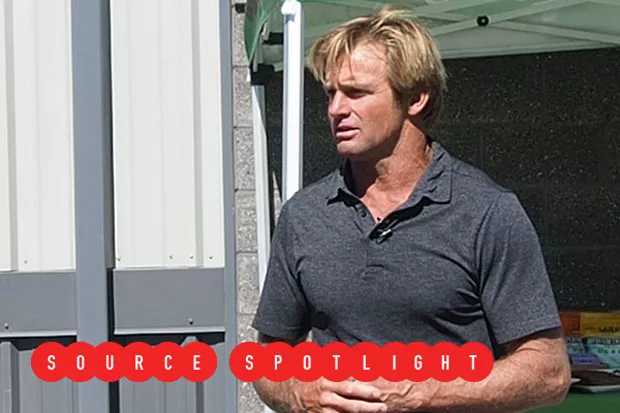 Chris Miller
Laird Hamilton addresses the crowd during the opening ceremony at the Laird Superfood production facility in Sisters.
Call him Creamer Guy.

His real name is Laird Hamilton. He's a big-wave surfer—maybe the best, ever. He's also an inventor, SUP godfather (remember the Blame Laird campaign?), fitness guru, waterman... and now, he's working on creating the second coming of Newman's Own.
On July 16, Hamilton came to Sisters to christen the opening of the first of what could be many Laird Superfood production facilities. Hamilton and his business partner Paul Hodge—both directors at GolfBoard—spoke to a crowd about their vision for their company's future: Laird Superfood on every store aisle.
Hodge said the company currently has about 50 to 60 employees in the Sisters facility, which produces superfood coffee creamers, coconut water hydration enhancers and other products, but he envisions having as many as 500 employees within three years—most of them locals.
"Hiring as many as you can locally, that's the ultimate goal, and reflective of the business," Hamilton said. "And creating opportunities for people to be able to be here and not have to be already independently successful, or retired."
Hodge said about 75 percent of the current workforce was hired locally, with others from out of area because of the specialty skill sets needed to work in a specialty manufacturing process.

Hamilton, who splits time living in Kauai and California, said one reason they located the production facility in Sisters was the tough business environment in his home states.
"Trying to cut businesses in California and Hawaii, those are probably the two worst states in the world to try to build a business," he said.
Another big reason was because of the culture and values of the people Hamilton met when he came to Sisters to vet prospective employees.
"There are people that have the same value system and the same interests (that I have), and so the culture Paul's building into this business is something that when I come here and meet the people and talk to the people that are working here, I'm like: absolutely, they make complete sense," Hamilton said.
"Sometimes you have this brand and you have this employee and there's a disconnect between the two," Hamilton continued. "There's people that work, but these employees are reflective of the brand, and that's unusual, very unusual in a way. People are attracted to the lifestyle, people are attracted to the products. If you don't have something that people like, that's good for them, then really, what are we doing?"
Hamilton said the idea for a performance food came from growing up in a diverse cultural environment, where the exotic foods he ate led him to looking at food differently.
"I started looking at food like fuel," Hamilton said. "That food's fuel and not always consuming out of taste, but more consumption out of energy. But, everybody enjoys things that taste good, so can we marry those two? Can we make it taste good? And that's where it comes from, it comes from the desire that food is energy and then how can we share that? How can we share that with as many other people as possible?"
Hamilton says he's still out chasing giants, because surfing wasn't something he did to become a household name.
"I'm still in pursuit of riding giant surf and ultimately pursuing things that I haven't gotten to do, so there's still plenty of those," Hamilton said. "So I need to continue to be authentic, for my own mind, for my own well being. So surfing's not something that I did just to become something, it's who I am. I have a relationship with the ocean and so my relationship with the ocean I have to cultivate and surfing and foiling and all these things that I do are just pieces of that relationship."