Corrections
The print edition of the story, "Many Arms" (1/30), stated that a recent Lyle Lovett show in Sisters was part of the Sisters Folk Festival Americana project, which we have found to be inaccurate. That concert was organized by the Sisters Schools Foundation.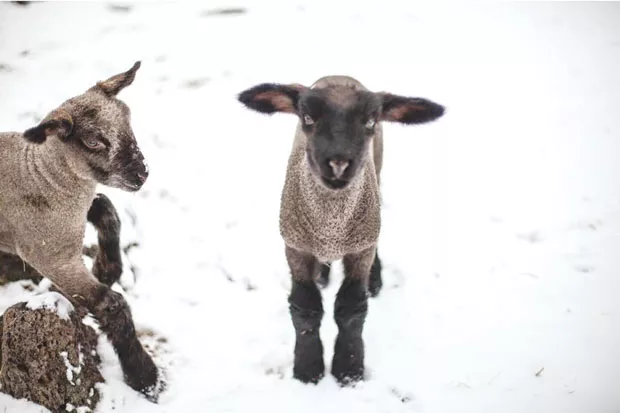 Submitted
@kurtarmstrong_ delivered with this cute snaaaaapshot. Tag @sourceweekly on Instagram to be featured in Lightmeter.
The story, "Wasted in Bend: Clothing in the Landfill" (2/14), stated that Knott Landfill is projected to close in 2019, but it's projected to close in 2029.
We regret the errors.
Clothing in the Landfill
I grew up in the clothing industry. My dad was an apparel representative for numerous women's ready to wear companies. He started traveling in the Midwest in the '50s and then in the Pacific Northwest until he retired in 1980. Every single garment was made in the USA and tagged with a union label.
There were factories in the Carolinas that created the fabric. And there were fashion houses in LA, New York, Chicago and Dallas (among others) that created merchandise. Notice that this was all happening in the USA.
Now cotton is grown in SE Asia and China and is loaded with chemicals. This weakens the fabric. Designed to deteriorate after a few wearings and get tossed so the customer buys more crappy clothing.
My daughter is a vintage clothing dealer in Arizona. Her biggest sellers are Made in the USA/Union Label clothes from the mid-century era. You know why? They haven't worn out!!
Even if seams have frayed or zippers have failed, good clothes can be repaired.
The scam of stores selling cheap clothing is just that. If you're going to spend money on clothes, check the label. Some companies are realizing that their credibility rises if they offer decent garments made from good fabric and decent workmanship.
As my dad always said, "look for the union label." Too bad this no longer exists.
—BJ Thomas
Partisan Politics Favors Developers
So, even though the Bend City Council is supposed to be non-partisan, Sally Russell chose a Republican to create "balance" on the Council. In this political climate, I would ask Russell if the Council had been 4-2 in favor of Republicans, does she really believe those Republicans would have chosen a Democrat for balance?
The true problem with Bend's government is that developers continue to control Bend—and, clearly, Russell. Until Bend wakes up and votes out these compromised politicians and doesn't tolerate them being able to appoint more of their ilk either, developers will keep making money off our town (often in the guise of providing affordable housing) and destroy everything we hold dear—no matter how loudly we protest.
—Haley Smith
In Response to, "Cougar Killing Increases Conflict" on 2/14
Although I respect George Wuerthner, I disagree with his criticism of ODFW's decision to kill a 135 pound male cougar in Deschutes River Woods.
The science he referenced in his letter suggests that cougars have a hierarchical social structure whereby older male cougars police a territory keeping juvenile cougars "at bay." While the science may provide valuable data, it does not lead seamlessly to the conclusion that cougars and other predators should not be hunted. Nor does it constitute the sole criteria for establishing wildlife management policy.
ODFW and local law enforcement have an obligation to ensure public safety. Cougars are unpredictable. No science guarantees that people and dangerous predators can live conflict-free in and around human dominated landscapes. Just in the last six months there have been cougar attacks in Oregon, Washington and Colorado. Two of them have been fatal. California, which has a ban on cougar hunting leads the nation in cougar attacks.
ODFW considers not only science when crafting its management policies, but also political and social concerns, type and availability of habitat, human tolerance for predators, and a host of other factors. They recognize that cougars, like other predators are a very resilient species, and adapt very well to hunting pressure.
We did not evolve with predators by treating them with a velvet glove. Our ancient ancestors both valued them and hunted them, and the two were not contradictory ideologies. If we are to live with predators, we should not lose sight of that historical perspective.
—Ed Putnam
Rats in the wood pile
I go out to my wood pile, get a piece of wood and out pops a rat. I dispatch it. Go out again and guess what, another rat. Happens a couple more times and I figure out that rats have infiltrated my wood pile and are pervasive, so I have to take drastic action.
Seems like every time Robert Mueller gets a piece of wood off his pile, he finds a Russian involved with the Trump campaign, associates, or family. But yet, the guy who owns the wood pile knows nothing and denies he has a Russian infestation.
—Dan Cooper
Dan: Your analogy made me chuckle, in spite of the gravity of the situation upon which it is based. Laughter in the face of a weighty topic wins letter of the week! Come on in for your gift card to Palate.
—Nicole Vulcan