Late last week, Lance told Oprah what we already knew: that he won all seven tours by doping and then lied about it.
While Lance continues to get hammered for his less-than-genuine responses during the Oprah interview, we're left wondering, what will his legacy be in Bend?
How many breweries, doctor's offices, bike shops, etc. will take down their Lance Armstrong posters, signed Tour jerseys, and other such memorabelia?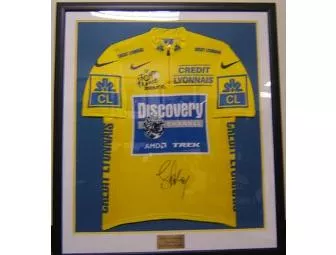 biddingforgood.com
Will these stay up or come down?
In Austin, Lance's hometown, action was swift at one 24-Hour Fitness location.
This is from an Esquire article on Jan. 15:
Even my spot for hoops, part of the 24-Hour Fitness chain, cleared away the memorabilia in a weekend sweep. According to a desk clerk, Livestrong picked up the valuables; the rest went in the garbage.
Bend loves all things cycling. In the office we've been joking that to make Portlandia's how-to-be-hip mantra more Bend-centric we could replace the word "bird" with "bike," as in: "put a bike on it."
How will "Bike Town USA" respond to Lance's admission? Time will tell. Does anyone care to hear any more about the disgraced cyclist? Probably not.