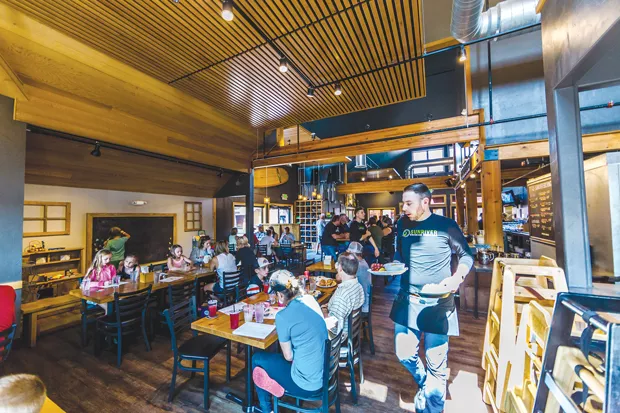 Submitted
Get into the Kid Zone at Sunriver Brewery.
Summertime in Central Oregon is packed with outdoor camps and kid-focused activities that kick off the minute the last school bell rings. But kids aren't the only ones who need a little break from the usual daily grind. During those few months when the weather warms and the sun shines, parents deserve a little break from hardcore parenting and the opportunity to kick back Central Oregon style.

Get your summer planner ready. We've rounded up local businesses that offer onsite childcare or options for outings that keep the little ones entertained so the adults can have some fun of their own.
Bend Brewing Company is located right on the river where you'll enjoy excellent food, imbibe and chat with friends while the kids run and play on their riverfront lawn area. The view is hard to beat and the summer vibe is strong at this joint. We suggest grabbing an order of their BBC Nachos or trying their Homemade Chips & Salsa.
The Crux Fermentation Project brewery gives parents the perfect spot to grab a late lunch, relax on the lawn and sip on suds while the kids kick it with their friends in the large yard area. Located in the center of Bend, this brewery offers a variety of food carts. The atmosphere is super casual, just like a summer afternoon in Bend should be.
GoodLife Brewery has captured the essence of the Bend life with its kid- and dog-friendly Biergarten situated on the east side of the brewery. This large green space has picnic tables and chairs on which to relax and lots of room for yard games and parent-free play. During the summer months, you're likely to catch some live music too.
Sunriver Brewing's Sunriver location isn't shy about its kid-friendly goals. Their Kid Zone is a small play area stocked with toys so kiddos stay entertained while the grownups relax. You can also head out to their deck where there's plenty of fresh air and space for when the littles need to get their wiggles out.
Maragas Winery offers its guests fine wine, yummy bites and an enormous sweeping patio and lawn area framed with views of Smith Rock and the Cascade Mountains. Kids run and play for hours on their lawn where it's not unusual to catch live music throughout the summer. Bring your lawn chairs or blankets and pack some hula-hoops and toys for entertainment. The babes will forget you are there as you relax and enjoy your favorite glass of red.
Va Piano Wine Bar at the Old Mill wants to keep Mom and Dad's attention on their fine wines, so they've made sure there's a space for kids to play inside. But when the sun is out, there's no need to stay cooped up. Instead, head out to their back patio to sip while the kids play in the grassy area.
vapianovineyard.com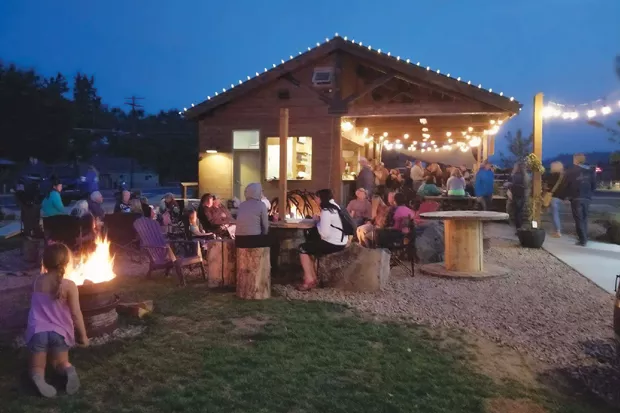 Submitted
Beautiful night at the Bite in Tumalo.
The Bite is located in scenic Tumalo at the north end of Bend and is well worth the trip if you're looking for a festive experience. This outdoor area has an array of food carts from which to choose, a fire pit, live music and games for the kids.
Crow's Feet Commons welcomes kids and literally has everything you need for a dream summer experience in Bend: coffee, beer, bike gear and a stunning view of Mirror Pond. Throughout the summer they host food trucks and live music—and there's a beautiful grassy area where the kids can run and play.
Bistro 28, located inside the Athletic Club of Bend, is a fine dining establishment with exceptional dishes like Draper Valley Oven Roasted Chicken and Grilled Double R Ranch Ribeye. Best of all, you can enjoy a romantic dinner with your beloved and keep your tots close by, because this restaurant has onsite childcare available, provided by Athletic Club of Bend. Call ACB for reservations.
Brasada Ranch has babysitting services that allow parents to enjoy a romantic dinner with only 24 hours advanced notice. Located in Powell Butte, this dining establishment offers a cozy, intimate atmosphere that is perfect for those sweet summer nights.
Juniper Swim & Fitness has onsite childcare that will give you some much-needed alone time to hit the gym, take a class or swim some laps. When you are done, you can pull the kids out for some pool play of their own.
Barre3 is located in Bend and has onsite childcare so parents can enjoy a stress-free workout.
However, if yoga is your thing, Namaspa is your studio. Sign your kids up for a separate class while you get your Om on at the same time!