C
entral Oregonians are keeping windows and doors closed today, as smoke from the
many fires burning in Oregon
began to blow this direction starting Thursday night. Keeping the windows and doors closed helps preserve indoor air quality—but for those who live outdoors or in temporary shelters, that's not really possible.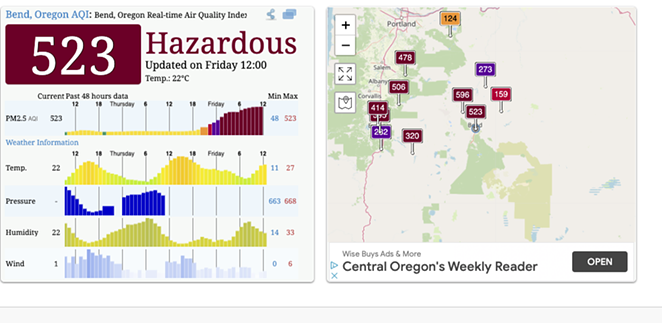 aqicn.org
Bend's air quality was listed as hazardous as of Friday.
Friday afternoon, Bend shelter Shepherd's House put out a call for donations to help victims of the fires, along with those who live outside.
They're looking for N95 masks, as well as gift cards to Fred Meyer, and monetary donations.
"Your support is critical and greatly appreciated," a press release from Shepherd's House stated Friday. "Let's be there for those who are suffering the most."
People can make monetary donations at the
Shepherd's House donation page
, or can drop donations off in person from 9 am to 4 pm Monday through Saturday at 1854 NE Division St., Bend.