The Sisters Folk Fest—a mainstay in the town for many years—is going through some changes.


Editor's note: This version has been altered from the original version. In the print edition, we stated that a recent Lyle Lovett show in Sisters was part of the SFF Americana project, which we have found to be inaccurate. We regret the error.

Staff changes
In January, SFF announced it was eliminating its managing director position and moving toward an executive director model—meaning Ann Richardson, who'd worked as managing director for the past five years, would be leaving.
According to SFF, the board worked on its organizational future for 18 months to address the internal and external challenges created by its past "co-director" leadership model.
"Ann was shocked and saddened when we informed her of this strategic decision," Sue Boettner, SFF's board chair said in a press release. "We are grateful for all that she has done and all that she continues to do to help SFF serve the community."
Steven Remington, development director for SFF, said he hoped finding a new, sole executive director would benefit the organization.
"It's hard to do when you already have personalities and jobs and people feel very strongly about their work, and so it's easy to get siloed, and so the board wants to have a leadership that then can take these ideas around all these collaborations and bring them all together under one leadership," Remington said. "From here what the board wants to do is to bring that all together into a more traditional form and then direct it from there."
Former board member Debbie Newport is leading the search for a new executive director, which began Jan. 25.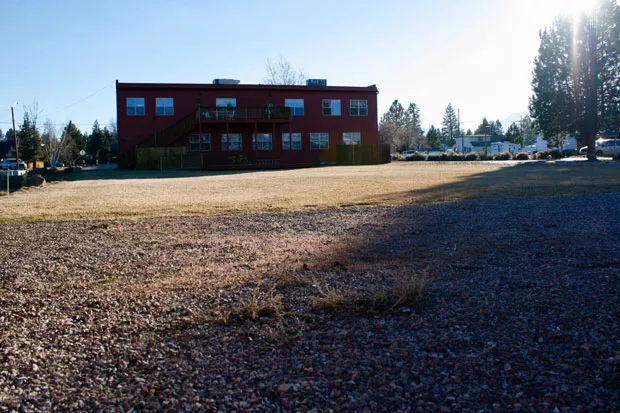 Chris Miller
Sisters Folk Festival has raised the majority of the funds it needs to buy the lot and the building housing its current office space, where the organization plans to build its own community gathering space in the coming years.
New digs
Organizational changes aren't the only changes in the works. The Sisters Folk Festival capital campaign is working toward buying and renovating the building where its current offices are located, on West Adams Street, as well as constructing a 400-seat, year-round community events facility in the lot behind the building. According to SFF, the organization has raised over $1 million toward its $1.4 million goal for Phase 1, which would purchase the building. Phase 2 includes plans to design and build the events center, at an estimated cost of $2.1 million.
"We're like a good three years away from building a venue," Remington said. "But what we're envisioning is a 400-seat, multi-purpose, community-oriented venue. When you look at that space (behind the current building) it's critical to our mission not to lose that space as a large festival site until we've got something else built back there, and if we build something back there and it's not as large as the tent (erected during the summer festival), then we'll be looking for another site. And we've already had communications with the City—discussions about Cliff Clemens Park and some of the other locations in town that would be suitable that would allow us some modicum of growth should the building impact the festival." Remington says the idea is not just to use the space for SFF, but to open it up to the wider community, as well.
A brief history
According to Remington, SFF was essentially started in 1995 by Jim Cornelius, editor of the Nugget Newspaper, and Dick Sandvik, co-founder of Paulina Springs Books. Remington said the festival lost money its first year. The founders took a year off and then came back, growing at a slow and organic pace. As it grew, the school district saw a lot of budget cuts, Remington said, so Brad Tisdel, SFF's creative director, and Kathy Deggendorfer—a Sisters artist who recently donated $500,000 to the SFF Capital Campaign—got involved with the school district to bring back programs that were being cut, like woodshop, as well as integrating more music and arts.
Remington said the festival has grown remarkably since around 2008 and is now a year-round arts organization. While it's the most visible element, the three-day celebration of roots music held the weekend after Labor Day is actually the largest fundraiser for the other arms of the organization.
Other arms
My Own Two Hands is SFF's second-largest fundraiser, and includes a parade, art stroll and an art auction and party held at the Ponderosa Forge in Sisters each year. Remington said the artists who donate their goods are what make the project so successful.
"It's been very successful and earns in the neighborhood of $120,000 each year, and that's by the grace of the visual artists that donate," Remington said. "And obviously, the donors who come to purchase and bid up things and remember that, 'I'm not necessarily here for a bargain, I'm here to support the arts.'
"There's sort of this three-legged stool of the schools, the festival and then all the other programs that we can offer adults and under-resourced kids outside of the school experience," Remington said. "And so we're really grateful for the relationship that we have with the visual artists, and are always looking for ways to build those programs and make sure that a significant part of the money that's raised with My Own Two Hands goes back into visual arts programs."
Music in summer—and winter
In 2011 SFF started its Winter Concert Series that kicks off Feb. 2 this year, when the Shook Twins and John Craigie take the stage at the Sisters High School auditorium. The Winter Concert Series has traditionally included three shows. Remington said two of them sold out last year, but thus far, the concerts aren't big money makers.
"It's really more about creating the opportunities for our supporters to see some great shows and for our students to have some great artists come and residency and talk to them about their music and their art," Remington said. "If we sell out all the shows, maybe we'll make $10- or $15,000 over the whole series. So it's not an economic model so much as an arts education and outreach model that we're able to, by virtue of our expertise and connections, we're able to monetize a little bit."
SFF also puts on a free, three-concert Summer Concert Series at Fir Street Park in Sisters around July or August. Remington said SFF made a commitment to help book these shows after the City of Sisters built the park.
"It's a free series, a gift to the community and an opportunity for us to address some of the more underrepresented cultures of Central Oregon," Remington said. "Because we know we have these populations—they just sometimes remain hidden—and we want to hear their voices and music is a great way to bring out their voice to honor a part of their culture, so that we can just be more comfortable around each other."
Another goal, Remington says, is trying to book more culturally relevant shows.
"We had a group from the Dominican Republic two years ago that was really popular and brought out a large Hispanic crowd that we weren't even aware of," he said.
Building instruments
The Luthier Program—part of the Americana Project—is one of only two instrument-building programs in public high schools in the U.S., according to SFF. It was started to inspire high school students to learn the craft of guitar and ukulele building over the course of two trimesters.
Tony Cosby, an engineering/woodworking instructor at Sisters High, and Bill MacDonald, who started Kona Breeze Ukuleles in Sisters, lead the program. Remington said students build about 15 guitars and 25 ukuleles every year. Local companies including Breedlove Guitars and Bowerman Guitars donate materials. SFF provides scholarships to students who can't afford the materials that aren't donated.
Remington said the SFF got a $50,000 grant for the school to purchase filtration systems, safety equipment and some of the computer numerical control machinery so students could "really do it right." Because of the CNC machines, Remington said the students leave the class with more than just woodworking skills.
"They get science, they learn about the wood, they learned a little bit about forestry and sustainable hardwoods and what's going on with that in the world," Remington said. "So there's this environmental tract kind of piece to it. There's math involved because they have to program the CNC machines."
Remington said SFF has the skills to make things happen, to organize and implement and to initiate things like grant writing for schools when they don't have a grant writer.
With so much going on, a permanent home is the next step for the organization.
"How do we need to change now in order to accommodate the maturity of our various programs and how can we be of greater service to the community?" Remington asked. "We want to better serve the community. I think we can do that by owning a building, by having a more traditional hierarchical structure to the organization and by having a deepening of our relationship with all our stakeholders, so they know that we're in it for them."