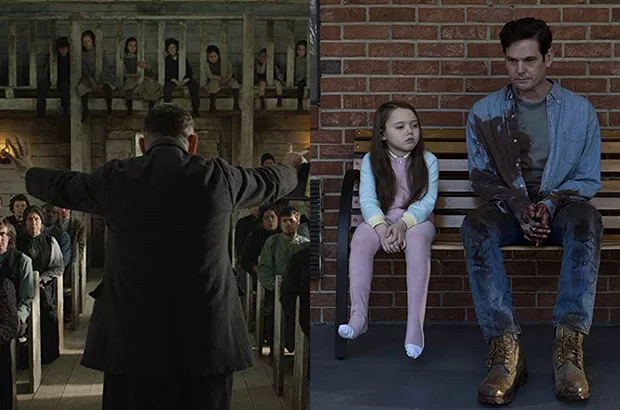 courtesy of Netflix
Nothing is OK about either of these images. Like at all.
I have a bit of an obsession with the macabre year-round, so using Halloween as an excuse to talk about scary stuff is a bit disingenuous. Still, I'll take what I can get. There are so many different sub-genres of horror that people with a deep aversion to, say, clowns, can avoid Pennywise and all of his ilk while still finding something spooky to enjoy. Whether it's a haunted house, killer dolls, serial killers or vengeful ghosts, October brings us a ridiculous number of goodies to scare the crap out of us. Enjoy!
In Pod We Trust:
Podcasts that are set up to be a limited series can sometimes be easier to get into than open-ended ones. "Halloween Unmasked" is an eight-part examination of the things that scare the hell out of us. Episode three not only takes a deep look at John Carpenter's 1978 masterpiece, but Amy Nicholson's surprisingly brilliant podcast also creates a legit, FBI-inspired psychological profile of Michael Myers. College professor Dr. Anthony Tobia even manages to diagnose Myers and connect The Shape with other, real-life serial killers.
The "NoSleep Podcast" has scared the holy hell out of me more than once, combining several short scary stories per episode, making the podcast feel more like a terrifying audiobook than a normal 'cast. Listening to this before bed can create some fairly disturbing dreams...I learned that the hard way.
"Return Home" is another scary-as-all-hell podcast, inspired by the old-time radio serials of yesteryear. With each episode adding to a larger narrative arc, the show becomes addictive almost instantly.
Bingeworthy:
Most of the people I know have already binged the entirety of "The Haunting of Hill House," which somehow managed to be the best ghost story of the year and also a painfully accurate tale of dysfunctional family dynamics. If you haven't seen it yet, it's basically a mash-up of "IT" and "Six Feet Under," but even scarier than both combined.
If you're looking for something other than "Hill House," "Haunted" is a disturbing look at real life ghosts and demons. Combining interviews with real people and disturbing reenactments of their stories, "Haunted" is the perfect show for a room full of friends to laugh at while pretending they're not really scared.
The new movie from the director of "The Raid" has launched on Netflix and it got under my skin something awful. "Apostle" stars "Downton Abbey's" Dan Stevens as a man searching for his sister among members of a religious cult living on a remote island. Equal parts "The Wicker Man" and "Hostel," this daringly original thriller is filled with some nightmarish imagery that will stay with you long past the end of October.