A
lthough Jamie McLeod-Skinner didn't win the election in Oregon's 2nd Congressional District, she did accomplish something that no Democrat has ever done before—getting more votes than Greg Walden in Deschutes County.
According to unofficial county elections results from the
Deschutes County Elections
, Democrat McLeod-Skinner garnered 45,020 votes in Deschutes County, to Republican Walden's 44,392.
To put that in perspective, the closest anyone's gotten to beating Walden was in 2006, when Carol Voisin lost to Walden by nearly 17,000 votes. In 2016, Walden defeated James Crary 63,565 to 31,539, a difference of 32,026 votes.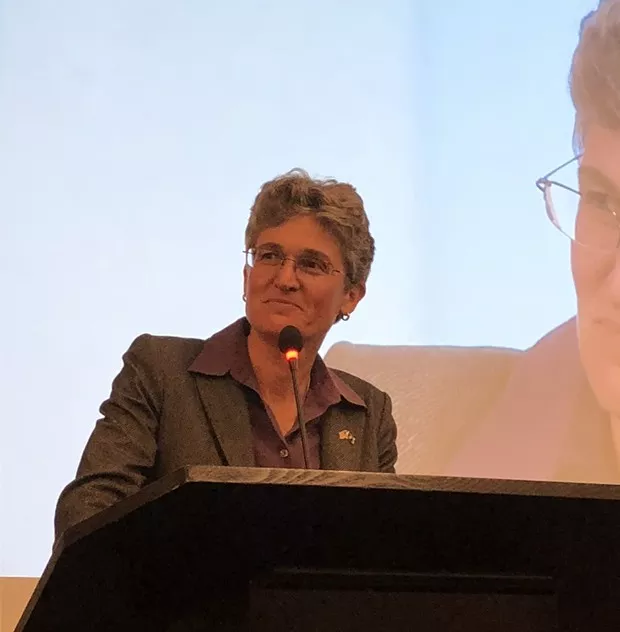 Chris Miller
Jamie McLeod-Skinner gives her concession speech at 10Barrel East Tuesday night.
"Although Bend's rapid growth—and the resort destination/retirement destination character of that growth—has diversified the city's voting demographic, I'm inclined to attribute Jamie's 628 [vote] margin in Deschutes largely to other factors," Jim Foster, professor emeritus of political science at Oregon State University-Cascades wrote Thursday in an email.
"Three in particular: Walden fatigue, compounded by Walden's apparent view that, after all his years in office, he owns the seat and need not interact with constituents (hubris); the 'double whammy' that Walden is a member of the Republican House Leadership when that leadership is under the sway (has capitulated to) Trump (revolt), and McLeod-Skinner's smart, professional, mostly positively upbeat campaign (competence)," Foster continued.
"To these factors one might add deep concern to restore the congressional checking function so thoroughly abdicated by the Rs. Not to mention the 2018 wave of support, nationally, for bright, articulate, engaged women running for office," Foster wrote.
"People responded to our message of crossing the political divide and working together to achieve our common goals," McLeod-Skinner said in an email to the
Source
Thursday. "That resulted in thousands of volunteers — over 2,600 across the state and many in Deschutes County — working tirelessly for months as part of our team. This wasn't about party affiliation or demographic group, as comparisons to the gubernatorial and county races show. This was about people who responded to our message of working together to build stronger and healthier communities."
According to McLeod-Skinner's campaign, she traveled more than 40,000 miles during her campaign, in an effort to unseat Walden. McLeod-Skinner went to nearly 35 town halls, hundreds of parades, rodeos, meet-ups and coffee mornings, house parties and rallies.
"Decency, compassion and empathy are bipartisan," McLeod-Skinner said on Election Night, after conceding the race. "Our campaign has brought people together around these values to make our communities stronger, healthier and more inclusive."
Walden rose to the seat in 1998, easily winning the Republican nomination and the House seat. No Democrat has held the seat since Al Ullman's run from 1957 to 1981.