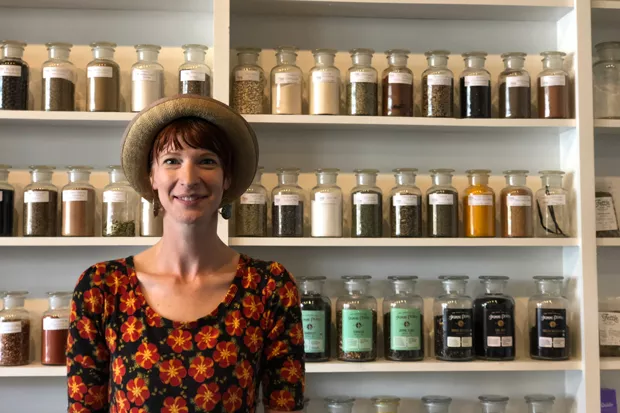 Lisa Sipe
Owner Katelyn Dexter wants visitors to explore Fettle by putting their noses in jars.
With the scent of herbs and spices lingering in the air, I felt better the minute I stepped into Fettle Botanic Supply & Counsel. It smells wonderful. I was thinking just that when another patron walked in and said, "it smells so good in here."
The focus is on Western herbalism and the healing power of nature, but the interior looks like a bright, inviting Chinese herb shop. The philosophy of the shop: when the body is in optimum health it can heal itself. The goal is to use plants as medicine to get the body back into a balanced state.
Fettle began as The Herb Shoppe 14 years ago in Portland, opened by board-certified naturopathic physician, Dr. JJ Pursell, who created a line of vital formulas you can still find today. Katelyn Dexter opened the Bend Fettle location five months ago after starting her career in Western herbalism under the wing of Pursell. By working with Pursell for four years and gaining "the experiential knowledge of five days in the shop," said Dexter, "I could see the people who visited and how their health shifted."
Dexter is an eclectic, confident medicine woman eager to help solve her client's problems. She asks a lot of questions and says, "People aren't used to questions about their health. We ask questions about what's going on, to help attune to the right plant."
The shop also offers an array of North American culinary herbs including sweet cinnamon, turmeric and cardamom, so not every visitor to Fettle needs to come in with an ailment or health goal. All the herbs are organic. You can also find organic hops, lemon peel, orange peel and a wide range of green and black teas for home brewing beer or kombucha.
When I visited Fettle, I kept trying to get Dexter to tell me about how the ingredients in her shop could be used in day to day cooking—but she just doesn't see food without function. She helped me understand this better when she told me about fennel. "Fennel seed is great for digestive support," said Dexter. "In Middle Eastern restaurants there are fennel seeds at the door. This has been used for a long time, they are more sacred than we give them credit for." Instead of a Pepto-Bismol or Alka-Seltzer, some people will pop a few fennel seeds.


Dexter also reminded me, "We're all busy and stressed but there are so many ways to bring extra love into those meals, intentional things that will help nourish us."
Looking at the shelves in Fettle with hundreds of bottles of herbs can be overwhelming, but Dexter says, "Look at the wall and see what you can't stop staring at. Fettle is a place to be explored." I couldn't stop staring at the jar labeled "soap nuts" and discovered they aren't for consumption but used for cleaning, particularly clothes.
Fettle also offers a wide range of free and paid classes and lectures each month, including a free Culinary Herbs as Medicine class Oct. 25, where Dexter will focus on the herbs most people have in their cupboards and their potential to heal and support health.
The herbal practices of Native American and European Traditions is what Dexter is most passionate about. "We want to make herbs accessible to kids, adults and teenagers so they feel confident using the plants we evolved with," said Dexter, "reminding ourselves of that can be really powerful."
Fettle Botanic Supply & Counsel
19570 Amber Meadow Dr. Ste. 120, Bend
541-728-2368
fettlebotanic.com