Else Kerkmann Photography
When it comes to mythical creatures, almost nothing gets kids' imaginations going more than unicorns and mermaids. But which creature's cuisine reigns supreme? What better way to find out than a fun cooking competition between two sets of creative sisters?

A group of Central Oregon kids used a locally-produced app as the backbone for a home-grown cooking competition—which you can reproduce in your own home during the long winter or holidays.
Here's how
Start with at least two pairs of teams, tasked with creating a yummy food concoction. Bring in some judges to test out the goods, and then crown a winner.
The Teams
Team Unicorn
Local sisters, Genevieve, 12, and Adriana, 10.

Team Mermaid
Madison, 15, and sisters Riley, 11, and Ani, 5.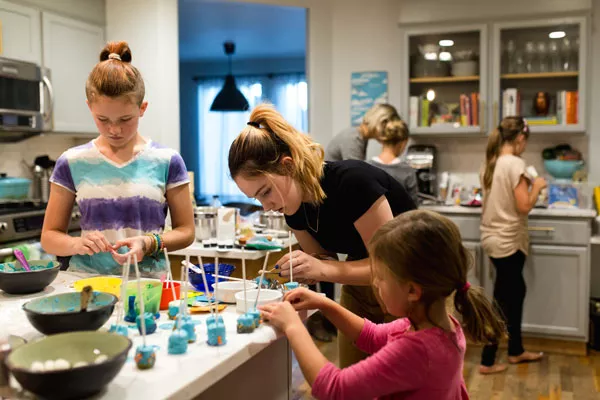 Else Kerkmann Photography
The Expert Judges
In this competition, the first judge was Le Cordon Bleu-trained Chef, Michele Morris, from Bend's Kindred Creative Kitchen. The second judge was food entrepreneur, Ashley Phelps, from ColorKitchen, which makes food coloring and sprinkles from plants, without using artificial dyes.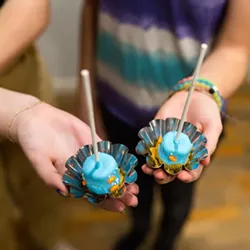 Else Kerkmann Photography
The Rules
To make the cooking competition easy, the teams used the free FoodFu Cooking mobile app. The teams used FoodFu to keep the time, getting 45 minutes to create a mythical beast-inspired dish for each judge. The app allowed the judges to vote anonymously on factors including taste, creativity, plating and how well each team met the challenge. If you want to play at home and don't have a cell phone, or don't want to download the app, you can use a clock to keep time and paper to vote.
The Competition
Once the timer started, the girls burst into action. Team Unicorn planned to make vegan banana bread, so Adriana and Genevieve started peeling and mashing bananas. On the other side of the kitchen, Team Mermaid set up to make underwater-themed marshmallow pops. Ani started by sticking the marshmallows with lollipop sticks while Riley put together the ingredients to make fondant while Madison made icing.
These girls were serious in the kitchen; you could see smiles on their faces, but besides the noise coming from the hum of a mixer or the shuffling of bowls, everything was quiet—they were laser-focused on the task at hand. Team Unicorn was pressed for time because they needed the freshly-baked banana muffins to cool so they could decorate them. A quick pop in the freezer helped. Team Mermaid focused mainly on appearance. Riley spent most of her time battling an ambitious project to sculpt a tiny mermaid entirely out of fondant. Ani and Madison dipped the marshmallows in icing, while strategically placing the sugary decorations.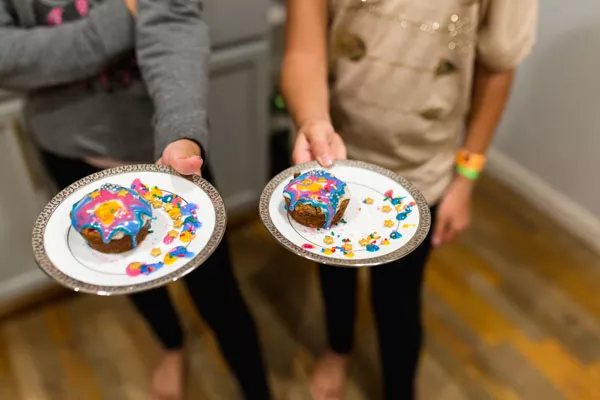 Else Kerkmann Photography
Before everyone knew it, time was up! Team Unicorn presented the judges with a single banana muffin swirled with white, turquoise, magenta and yellow icing, topped with multi-color sprinkles, silver and gold candy stars. Team Mermaid used aluminum flower-shaped tart molds to present sea blue-iced marshmallows, dipped in gold sugar to look like sand. Orange candy goldfish swam around the marshmallows with white nonpareils to mimic bubbles. The judges sunk their teeth into each sweet vividly-hued treat.
With a fresh sugar high, the judges had a tough decision to make: unicorn or mermaid?
The RESULTS
The results were in! And the winner is... the single-horned beast that started it all:
the unicorn!

Lisa Sipe is a food writer and one of the creators of the free app,
FoodFu.