Bend Rock Gym
Young girls rope in their confidence on a sheer rock face.
When a camper walks into the all-girls climbing camp at Bend Rock Gym, she's usually a little timid. For some girls, this is only the first or second time climbing. But the first activity they do—the one that almost everyone struggles with—has nothing to do with climbing.
"I hang up posters around the wall and each girl writes descriptive words about themselves," explains Jessica Warwick, youth programs director. "It can be hard for most of the girls—they don't know what to write and there are a lot of insecurities behind what they write."
The posters show up again, three days later at the end of the camp. This time, girls are much more confident in the words they choose to add to their poster, thanks to the work they have done off the wall.
The camp, one of the few all-girl climbing specific camps in the nation, starts Sunday, with overnights at Bend Rock Gym Sunday, Monday and Tuesday. The first day is spent climbing indoors so girls can learn the basics of climbing and climbing safety, in prep for climbing at Smith Rock State Park Tuesday and Wednesday. They learn how to top rope, how to belay, and how to rappel, as well as learning climbing skills and techniques.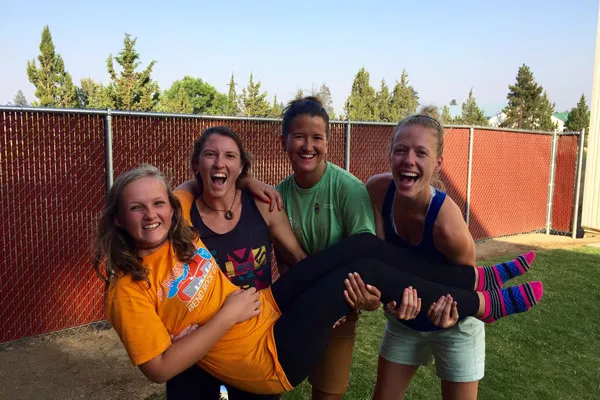 Even though it's a climbing camp, it serves another purpose—one Warwick considers equally important.
"We want to show girls how strong and capable they are, and get away from the societal expectations of them," Warwick said.
Warwick and two other female leaders, all Single Pitch Certified, lead the camp. teaching the girls climbing skills while also mentoring them in self-love, self-confidence and independence.
"It's really empowering, and super fun," said Jesse Radzik, who attended the camp for the first time last summer. "You get this feeling of being part of a community, and it's just a really powerful experience."
Radzik had never been to Smith Rock before, and had only been climbing at BRG once or twice, but liked the camp so much that she started going to one of the after-school climbing programs. She says she can't wait to go to camp again this summer.
This camp is a culmination of Warwick's passions: working with kids, climbing and empowering girls.
"I started climbing when I was 14 and it changed my life," she said. "It gave me tons of confidence and showed me I was capable of anything. So my main motivation is to show other girls that they are strong and capable."
Climbing has traditionally been a male-dominated sport, but women such as Lynn Hill, Sasha DeGiulian and Alex Puccio have been showing that women can do just as much—and oftentimes more—than men.
"Each girl has some kind of learning experience with one of the mentors," Warwick said. "We teach them how to work through their fears, how to with each girl help them achieve something to empower themselves."
Bend Rock Gym
1182 SE Centennial Ct., Bend
Camps at classes at bendrockgym.com
541-388-6764