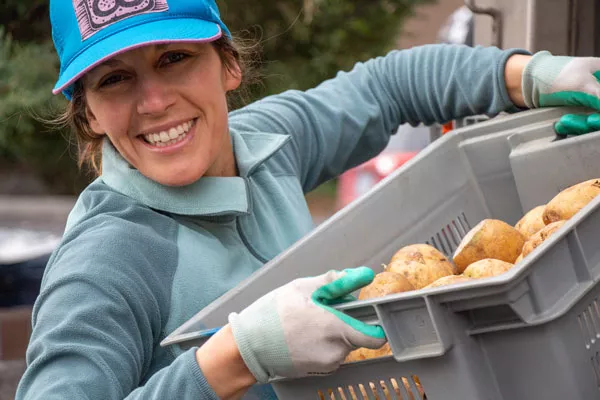 Keely Damara
Your local, friendly food provider delivers a big smile to go with them taters.
Ever wonder how your food gets from a local farm to your plate? The short answer: very carefully. Get the longer answer in this Q&A.
Source Weekly: What is Agricultural Connections?
Liz Weigand: We are a specialty distributor that delivers farm fresh food year-round. We sell local—meaning Central Oregon and Oregon-grown food—that bridges the gap between farmers and consumers. We're all trying to eat good food. We're trying to eat really fresh, seasonal, delicious food and the only way to do it is to work with farmers near our home.
SW: What problems do you solve?
LW: The physical movement of food from point of origin to destination. We've created a system that makes it easy for us to communicate what we have, so it can be ordered. Our online platform is visible to clients about what is currently available and where it's from, including the farm and location. We are the middle man for the purpose of efficiency. So, farmers focus on farming, and chefs focus on food preparation and the restaurant.
SW: What insights do you have into the restaurant community?
LW: We know when new restaurants open. We've had more inquiries this spring from new restaurant owners than ever before. It's also interesting to see how chefs move around.
SW: Who is easier to work with, chefs or farmers?
LW: Honestly it comes down to the individual, so it can be easy or hard on both sides non-discriminately.
SW: What do you like most about your job?
LW: The friendships. It's really cool to make friends with the farmers and be able to support them and learn about what they are doing and become friends with and support the chefs. I love going to restaurants and seeing the food we helped coordinate the sale of on a plate.
SW: Have the restaurants changed what they order since you started? Do you see any trends happening?
LW: Yes, we've definitely seen potatoes grow. Deschutes Brewery wanted Kennebec potatoes and that is why Casad Family Farms started growing it. Kennebecs are known for making amazing French fries because they are firm and have a low moisture content. Deschutes Brewery, 900 Wall, We're the Würst and Jackson's Corner all order potatoes. Rainshadow Organics produces the Purple Viking Potatoes for Jackson's Corner.
I've seen more beets used in the wintertime and more salad turnips ordered when they were available. Salad turnips are soft skinned and mild, not spicy. They look like a white radish and are crunchy. The farmer grew salad turnips and introduced them and created demand. Farmers can influence from both directions what is used on menus.
SW: What was the weirdest request for meat or produce?
LW: Fresh Galangal, chicken feet and some requests for items like coconut water, vanilla extract and vegan chocolate. Jackson's Corner and Camas Country Mill approached us at the same time for dry goods like flour.
SW: What is the hardest thing to bring to market?
LW: Basil. Our refrigerators are set to a produce temperature and it's not right. Basil needs a special temperature we don't have right now. We also learned that potatoes cannot go below freezing because it changes the starch content. It ends up making the French fries browner.
Agricultural Connections
1470 NE 1st St., Bend
agriculturalconnections.com
541-903-2502