It can be hard to know exactly how far to go or how much money to spend on Valentine's Day. Maybe you really like each other but promised to keep it casual. Maybe V-Day this year lands right in between paychecks, so you don't quite have the money to go huge.
This week we're taking a look at ways to celebrate Valentine's Day without breaking the bank. Next week we'll dive into ways you can blow a whole paycheck (or three) just to show you care. But we don't just want to show you the best ways to have a modest Valentine's Day, but also how to have one based on the kind of relationship you are (or aren't) in.
Low-Key Couple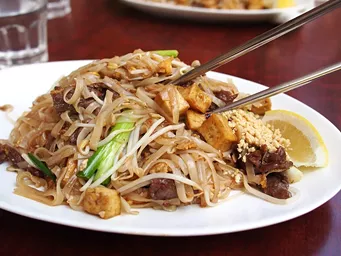 You've been together for a couple of years and comfort has crept in. You used to be out at the bars getting rowdy, but now it's more likely that you'll both be curled up on the couch watching "Game of Thrones" than cage dancing at Seven.
Nothing says, "I love you," more than a two-screen streaming plan from your favorite movie database. With "Stranger Things" loaded in the queue, all you need is dinner, so come through the door with steaming boxes from A Taste of Thailand. Get sticky rice, fresh rolls, pumpkin curry and the red curry pineapple chicken all for well under $40. True love means not having to put your pants on for Valentine's Day. Oh my!
Secret Broke
Your partner wants to go out and have a night on the town, but you just don't have the cash flow to drop on multiple $8 Long Island Iced Teas and possibly a cover charge somewhere, or spending a Benjamin for dinner. You care about each other, but do you know each other well enough to really know whether that person will be there when you're dead broke? The struggle is real! Not to worry, we have your back.
Start the evening off at Sun Mountain Fun Center with a little miniature golf. At only $6.50 per 18-hole round, it'll be two hours before your partner even notices they're sober and hungry. Plus, that windmill is a mean old bastard, so you can drop a solid 30 minutes just on that hole.
Time for dinner? Perfect! How about a quick trip to Dandy's Drive-In for a corndog ($2) and a Dandy Burger ($4.75). No, we don't need it Deluxe, thank you very much!
You've done it! Several hours out together and you've spent under $30.
Sexy Time

You both work so much that scheduling an intimate evening together sounds like a treat. A gift you can give your partner that lets you BOTH win is a gift certificate to the Pretty Pussycat for whatever you can afford. Here's the thing: you might know what your partner wants in the bedroom department, but the act of walking around together and actually searching for that perfect thing...well, that's one hell of a treat. Nothing says, "I love you," like finding out your partner has a nun fetish.
Now you have a car full of naughty trinkets and want to get home and unwrap your present, but the thought of delaying the pleasure just a little bit sounds too fun to pass up. So a quick dinner that won't break the bank (well, you shouldn't have spent $700 in the sex shop) is up next. How about one of Parrilla Grill's famous margaritas ($5 glass or $20 pitcher) made with Lunazul Reposado tequila? If that's a little much, tall boys of PBR are $1, just as they've been since 2000. Follow that up with some fish tacos ($7.50) or maybe a falafel wrap ($7) and you're off to the races.


696 NE Greenwood Ave., Bend
(541) 815-0180

300 NE Bend River Mall Dr., Bend
(541) 382-6161
1334 NE 3rd St., Bend