Local Kid on the Food Network: Middle schooler competing in "Kids Baking Championship"
By Lisa Sipe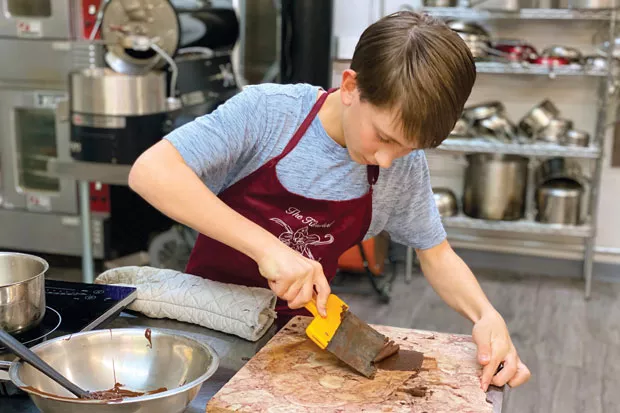 Lisa Sipe
Pacific Crest student, Reggie Strom, is competing in the Kids Baking Championship.
Seeing that he loved to bake, one year, Reggie Strom's parents gifted him a French macaron class at Bend's Kindred Creative Kitchen for his birthday. One class turned into several. His instructor, Chef and Owner Michele Morris said, "I noticed first of all that he was really organized, which is rare, and he had that pastry spark in his eye."
One day, the Food Network contacted Morris, asking whether she had any students interested in trying out for the "Kids Baking Championship" show. Strom, a 12-year old student at Pacific Crest Middle School, came to mind. Soon, Strom found himself traveling to compete on the show, which began airing Jan. 6.
Strom competes with 12 other young bakers, ranging in age from 10 to 13, in season 8 of the show. The kid contestants take part in challenges including making 3D dinosaur cookies, Neapolitan desserts, ice cream cone cupcakes, potato print cookies, fruit cakes and more.
Strom couldn't give any details about what happened to him on the 10-week show, but he did share his favorite memory: "Seeing the set for the first time was quite amazing. It was really cool to see the entire kitchen."
Does he make it all the way? Bendites may have to wait 'til March to find out.
Forest for Good: Waldorf School students planting 10,000 trees in 2020
By Nicole Vulcan
In early May, you won't find students from the Waldorf School of Bend in their normal classrooms. Instead, they'll be taking their learning to the forest, where they'll participate in a service project aimed at restoring some of the woodland destroyed by the Milli Fire. That 2017 fire burned some 24,000 acres in the Deschutes National Forest and the Three Sisters Wilderness.
On May 1 and 2, Waldorf School students and staff will aim to replant about 50 acres of that land with seedlings, cultivated by the U.S. Forest Service, that are ideal for that area's location and elevation. The goal is to plant 10,000 trees, with the idea of having students return to the area on occasion to see the progress of their labor. According to the Waldorf School of Bend, the project will offset more than 283 tons of carbon. People can learn more about the project by visiting the website, forestforgood.com.
A Champion Horse Jumper: Cascades Academy student wins 1st place in national competition
By Nicole Vulcan
B end is home to a host of national champions in many different sports—and now, a local 7th grader can add her name to that roster. Ella Delgado, a student at Cascades Academy, took home 1st place in the U.S. Hunter Jumper Association's Medium Pony Hunter division national championship in Las Vegas in November.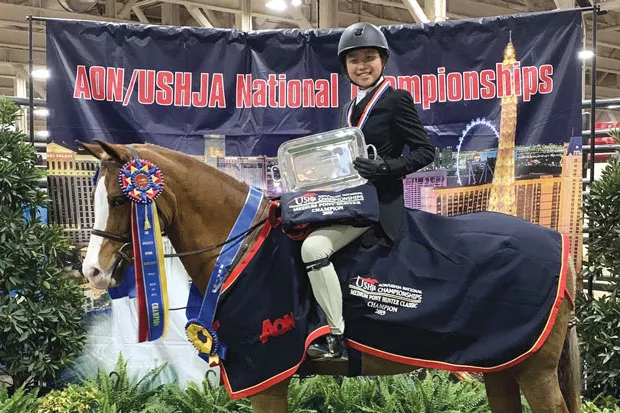 Courtesy Cascades Academy/Ella Delgado
Champion Ella Delgado with her winning pony, C.E. Providence.
"Hunter/Jumper Riding," according to Delgado, is "a modern take on fox hunting combined with a beauty pageant for horses."
Delgado is a devoted horse person. In addition to regularly riding the winning pony, named C.E. Providence, she rides three other horses, often spending as many as seven days a week training and riding. Next up for Delgado: competing in Palm Springs in February.