S
ince opening in 1976,
Newport Avenue Market
has left its mark on the community. The store itself is a 19-time winner of the "Best Grocery Store" category in the
Source's
Best Of Issue. Now its founder, Rudy Dory, has been honored with another award by the
National Grocers Association
– the Clarence G. Adamy Great American Award.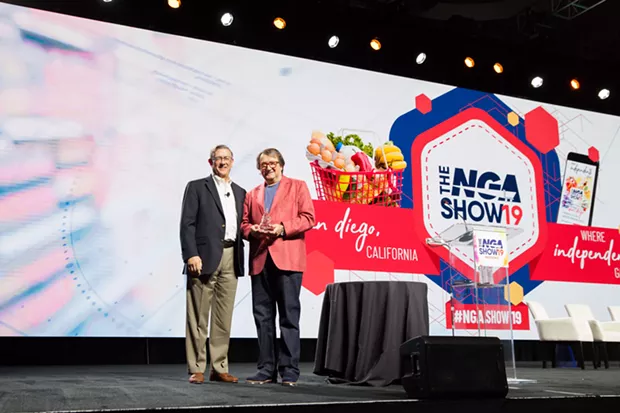 Sofia Negron
Rudy Dory accepts his award at the 2019 National Grocers Association Show.
"Rudy is a tireless advocate of the independent supermarket industry by supporting a public policy agenda that benefits Main Street grocers throughout the country," Greg Ferrara, Executive Vice President of the NGA said in a release. "NGA commends Rudy on his achievements and looks forward to working together in the future as we continually come up with innovative ways to advance the interests of our industry."
The award is given to the those who excel in public advocacy, both in government and public relations as a citizen and business owner. The award is named after Clarence Adamy, a past president of the National Association of Food Chains.
To top it off, Dory was also announced as a 2019 NGA board director at the ceremony.