Alpaca by Design
With their biggest sellers being the three S's—sweaters, socks, and scarves—Alpaca by Design keeps Central Oregon residents cozy all year long. "It's considered by many to be hypoallergenic," says owner Steve Segal. "It's also warmer than wool, very colorfast, wicking, water-resistant, odor and stain-resistant, and of course soft." One of the largest alpaca specialty retail shops in the U.S., and publisher of Alpacas Magazine!
Americana Luthier Program
While most high schoolers spend their woodshop period making birdhouses or benches, Sisters High School students make guitars and ukuleles. "This kind of integration of science and the arts is what makes the program so special, and they get to keep the instrument for life," says Brad Tisdel, creative director of Sisters Folk Festival. See these "heirloom quality" creations in action June 9, when the young musicians in the Americana Project bring them to life. Sistersfolkfestival.org.
Angeline's Bakery
It's not easy to find a plate-sized vegan cinnamon roll. But at Angeline's Bakery, that's not the only baked good tempting those usually left out of the pastry party—namely the no eggs, dairy, gluten, or sugar crowd. Owner Angeline Rhett says the bakery's approach is inspired by her own diet. Why make sweets you can't eat? Word to the wise: plan to share the cinnamon roll with a friend.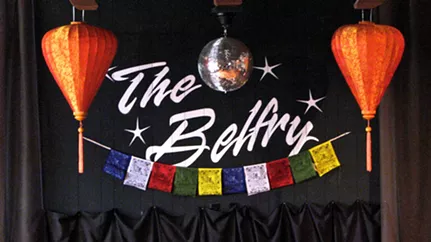 The Belfry
What started in 1914 as a church has been converted into a community center of another sort—a staple for music, classes, fundraisers, and more. However, owner Angeline Rhett feels The Belfry is just hitting its stride. "It's in its blooming phase and where we go next will be determined by the community," Rhett explains. That next stage may include cooking classes in the (literally) church-size kitchen, a music school, or any other ideas the Sisters community
can cook up.
Bike Park
An ad hoc committee is pushing forward a one-acre bike park—with bumps and jumps—to sit adjacent disc golf course and near the Park & Rec HQ on the west end of town.
Canyon Creek Pottery
Off the beaten path, in what looks like a quaint country cabin, and featuring handmade works of Kenneth G. Merrill, Canyon Creek Pottery offers artfully designed functional pieces including dinnerware, lamps, and sinks, as well as pieces that prioritize form over function. The gallery has been a part of the Sisters scene since 2002, but Merrill has been making pottery for more than 30 years.
Demographics

The average resident in Sisters is five years older than the state's median age and the median household income is $4000 less than the state's median—thanks, perhaps, to the large population of retirees, Although 75 persons per year may not seem like rapid population growth, like the rest of Central Oregon, Sisters is also rapidly growing; a 3.75 percent annual growth rate is outpacing most of
the state.
Housing

Sisters makes Bend's housing crash look like child's play. The median sale price peaked at a dizzying height of $526,000 in 2007 (at the time, Bend's was $350,000), and those numbers dumped to $155,000 by 2011 (by comparison, Bend slid to $170,000, about 50 percent of its top prices, but nothing compared to the 30 percent valuation in Sisters). Over the past two years, housing prices have rebounded only slightly, and have ping ponged between $200,000 and $300,000 since 2012.
Local Media

While most cities have lost their local radio stations to media conglomerates like Clear Channel, Sisters has its own radio station,
KZSO
. There are jazz shows, elementary school kids reading storytime books, rebroadcasts of "The Lone Ranger" and the Rick & Nick morning show that covers local happenings, from school board funding reports to cowboy hijinks. "We try to keep it light," says Program Director Rick Olson, "there's enough heavy stuff out there."
Preston Thompson Guitars
A team of craftsmen work to produce custom acoustic guitars that are sold in Central Oregon and globally. "We seek to produce instruments that pay tribute to the finest American vintage guitars both in sound, looks, and playability," says founder Preston Thompson. Rich woods such as 1930s "Shipwreck" Brazilian Rosewood, Oregon Myrtle, and Honduran Mahogany, give the instruments a powerful and responsive sound praised by artists such as Grammy-winning guitarist Peter Rowan and the late Charles Sawtelle.