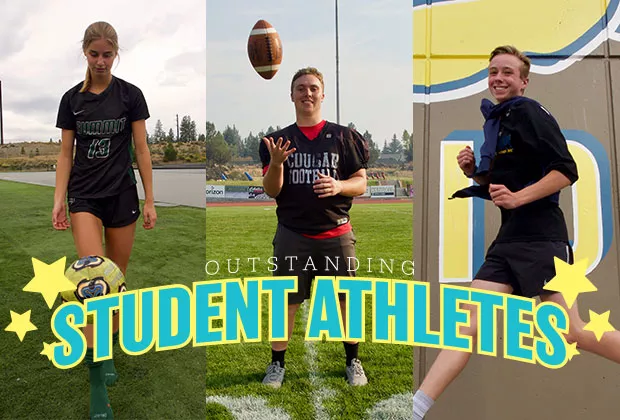 As part of the Source's Back to School issue, we reached out to area high school athletic directors to see who the best and brightest of Bend are—both on and off the field.

Dalton Payfer-Lockling
Mountain View High School
The senior plays both sides of the ball and special teams. He's basically on the field for the entire game, and according to his 3.73 GPA, he's a tenacious student as well.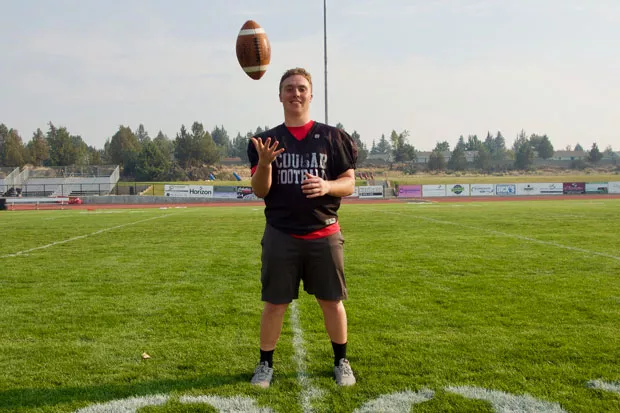 Chris Miller
Mountain View High School senior Dalton Payfer-Lockling
"I've been playing football since the seventh grade," Payfer-Lockling said after a practice on the main football field. Payfer-Lockling said he mainly plays running back and linebacker—both inside and outside—and occasionally plays fullback and tailback.
Off the field, he said he's interested in psychology and something that's "social-studies like."
"I'm pretty good at that aspect," he said. "I really like history and stuff; I'm kind of a history nerd," he said, smiling.
"Dalton is the epitome of a student athlete, because he is able to squeeze as much out of his talents both in the classroom and on the field as possible," Brian Crum, head football coach and social studies teacher at Mountain View told the Source. "He maximizes his intelligence by challenging himself with AP and college-level courses and then puts the necessary work into them to be highly successful.
He also is able to use the notable presence that he has into the school building and brings kids who might be on the edge of success to the other side."
On film, Dalton plays like a teen version of a combination between Brian Urlacher and Tom Rathman—explosive power through the line, unafraid to block larger lineman and a take-no-prisoners approach to defense.
He said there are a few colleges taking a look at him but that he's "just trying to find the best athletic and academic fit for my future in the long run."
His coach said football-wise, Dalton is a kid who you simply trust to do everything correct the first time. "He brings an energy and joy to the game that is infectious," Crum said. "He is one of the main pistons on the engine that runs our team."
But, what does football really mean to the friendly, intelligent high school student? "It's just being with your friends," Payfer-Lockling said. "Like, you're out there playing; when you really slow it down and think, and you look up in the stands and you're with all your brothers... it's really surreal."
On his favorite side of the ball, Payfer-Locking didn't even blink. "Linebacker. I like flying around hitting people," he said. "It feels so free-flowing and I can be myself."
Michaela Gorman
Summit High School
The Source caught up to the senior midfielder after the Storm blanked Portland-area Putnam High School Aug. 30.


Chris Miller
Summit High senior Michaela Gorman
"I've been playing soccer since I was in kindergarten," Gorman said, smiling as her teammates were giving her a hard time about being interviewed.
Gorman wasn't a single-sport athlete when she was younger, saying she did track for a while—competing in the heptathlon, a seven-event contest—before focusing solely on soccer. Her track training showed on the field, as she routinely beat Putnam players to the ball before deftly passing to open Summit players.
Gorman's already decided where she'll play ball next year—in fact, she decided when she was an underclassman.
"I actually committed my sophomore year to Baylor," she said.
Gorman said she got interested in soccer because of her dad, who played for the University of Oregon.
"My dad was a huge soccer player," she said. "He went to the U of O for soccer—he's, like, a big player there. He was once like the best in Oregon for boys, so he pushed all of us, my brother and sister also."
In the classroom, Gorman—who said she has a 4.29 GPA—said she enjoys science and wants to continue studying it after high school. "I loved anatomy last year and I like biology and stuff like that," she said. "I like all of the sciences."
Jamie Brock, who teaches physical education and is the head coach of the girl's soccer team, said inside the classroom, Gorman does really well.
"Her work ethic on the field and in the classroom is much the same," Brock said. "She doesn't give anything but her best. She takes pride in hard work and effort and clearly that pays off in the classroom as well as on the field."
As far as a college major, the excellent student said she's going to keep it science-y.
"I have my official visit soon, and I think I'm going into health sciences as my major," Gorman said. "If not, it will probably be biology or kinesiology or something like that, so I can go into sports medicine or something like that."
For the rest of her high school career, Gorman said she's going to be more active in school activities outside of just soccer.
"I was part of the news club and I want to get more into clubs, especially this year, so that's something I'm looking forward to for my senior year," she said.
Her coach had one more comment for the affable girl who wears No. 13 on the field.
"In terms of good citizenship, she's got good sportsmanship on the field—she's the same way in the classroom—and she's taking care of the people around her, while at the same time putting all of the effort in there."
Bennet Jackson
Bend Senior High School
Some people are built perfectly for the sport they play, and Bend Senior High School's Bennet Jackson is no exception. He's built like a gazelle, long legs meant to run and run fast.


Chris Miller
Bend Senior High School junior Bennet Jackson
"I would say his greatest strength as an athlete is not only his focus, but for running in particular, he's really gifted with perfect form," Lisa Nye, head cross-country coach and social studies teacher at Bend Senior High School said. "And when you watch him run, it's art. He just has a very fluid stride; he has natural arm movement and he's very efficient."
Jackson, a junior, said his fastest time in a 5-kilometer race is 16 minutes, 15 seconds. Let's break that down: A 5k race is 3.1 miles. At 60 MPH, it would take roughly 3 minutes to travel that distance. Jackson's no car, but with some quick math, he's running about 5.5-minute miles. That's fast.
Considering the 5K world record is 12:37.35, Jackson's holding his own. "I've been running cross-country for five or six years, since like the sixth grade," Jackson said..
Jackson said he still plays hoops, but not competitively anymore. He got into running by watching the world-class athletes on TV—and his family—run.
"I was watching the Olympics and I thought it was pretty cool," Jackson said. "And both of my parents did run when they were a little younger, and they said I should try cross-country, and I loved it."
Jackson said his favorite thing about being on the cross-country team is running the team atmosphere.
"They're just super-fun people to be around," he said of his teammates.
Jackson said he's currently holding a 3.9 GPA. Although it's too early to pin down a college, he said he definitely wants to go, and hopes to run as well.
"I'd like to try and get into college and run D1 [Division 1] or D2 if I can," he said.
"He's an outstanding student-athlete because of his ability to quietly lead by example," Nye said. "I think Bennet is always very aware of his surroundings and what's going on, and he knows what he wants to accomplish and he is able to focus and do that and then other kids around him see that—and that demonstrates how you want to be."
After completing the International Baccalaureate program in high school, Jackson said he's got an idea of what he like to enroll in at college.
"I would like to study PT [physical therapy] or something like that," he said. "Just, like, help people recover and get there."