Drop the Prozac and pick up a paint brush.

Can the process of making art actually slay the twin emotional demons of depression and anxiety? Most definitely, according to one Oregon painter, who claims artistic creativity can settle your thoughts and ignite positivity in all areas of your life.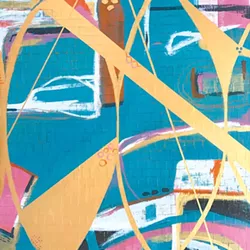 "Being an artist is being authentic to myself," says Marigny Goodyear, who's currently displaying her work inside a downtown Bend interior design studio. "Life is more comfortable when I'm being true to who I am." It wasn't always this way. "For a long time, I tried to be many things that I'm not and that led to feeling out of place, which made my anxiety and depression much worse."
Goodyear, who has lived in the Rogue Valley area of southwest Oregon for nearly a decade, specializes in mixed media abstract paintings. Her work, she says, reflects her current state of mind—a state she refers to as a form of meditation called "abstract expressionism." Her pictures are filled with a stunning variety of big, bold shapes and colors.
"When I'm painting, I don't think about the laundry that needs to be done or that the car needs an oil change," she says. "All decisions are based simply on what feels good in that second. Just breathe and create."
Being in Oregon doesn't hurt either. Goodyear, who had previously spent time in New Orleans and Boston, admits her natural surroundings play a big role in her zen approach. Skiing and surfing, as opposed to "spending time in Louisiana swamplands," puts her in the right state of mind for art.
"Just breathe and go with the flow and that mindset trickles into all of my life."
Marigny Goodyear: Control and Chaos
Legum Design
922 NW Bond St., Bend
Throughout July, Free