It started in the summer of 2017, when rumors and social media posts began to twitter about the revival of one of the 1990s' most iconic adult beverages: Zima.

(If you're one of those people addicted to La Croix, and also jumping on the spiked seltzer bandwagon, we don't want to hear you scoffing at Zima. You're drinking the 2018 version in that seltzer, aging hipster.)
With the Source staff fairly well mixed between Xers, Xennials and Millennials, a few of us remembered the days when Zima was all the rage, consumed by party girls and unabashed, comfortable-with-their-gender-identity dudes. It was definitely a thing.
With it coming back to store shelves, office conversation turned to dedicating a night to drinking Zima. And then to everything '90s. And then, to the man who coined the phrase "Party Like It's 1999" with his 1982 song, "1999"—none other than Prince himself. He may have written his song in the '80s, but Prince's "1999" was definitely on repeat in many a '90s college apartment, and at many an anxious pre-Y2K party.


If you find yourself wondering, over the course of the next couple pages, where the heck this "Party Like It's 1999" thing came from, now you know it's about the above—and about the fact that as the arts, news and culture publication in our region, it's our duty to dedicate an occasional issue to partying, because, well, we can. It also happened to work out for us to dedicate this time, right during the anniversary of Prince's death.
With that, here's a rough hour-by-hour recap of one Party Like It's 1999.
Two weeks before Party Like It's 1999: We start calling liquor stores and checking online to find out where we can get some Zima. No one seems to sell it. We check online to find that the Redmond Walmart may be one of the last places to sell last summer's special release. While we're disappointed they don't have any, we're relieved we don't have to visit the Redmond Walmart.
One week before PLI99: We call the hotline for MillerCoors, which (allegedly) released said Zima to the public in 2017. We're desperate to find some Zima—any Zima—left over from last year's sale. (Apparently, one sad, solo run was all this throwback was going to get.) No one calls back. We check eBay, where the only Zima bottles to be found are empty collector's items.
4 pm, Day of PLI99: We remember that we'd planned to start off the night at the office, with a toast and some Zima. With no Zima to be had, we rush out to the nearest retailer for a 12-pack of Smirnoff Ice instead. While the regular flavor is a bit more lime-forward than we remember Zima being, it's something of a fair substitute.
4:30 pm: Source staffers emerge wearing Keds, backwards hats, plaid flannels, scrunchies and other stuff we vaguely remember we might have worn in the '90s, all while drinking said Smirnoff Ice. Ever been "iced" at a party? It's not like the Mafia type of iced. Ask your Millennial friends about it.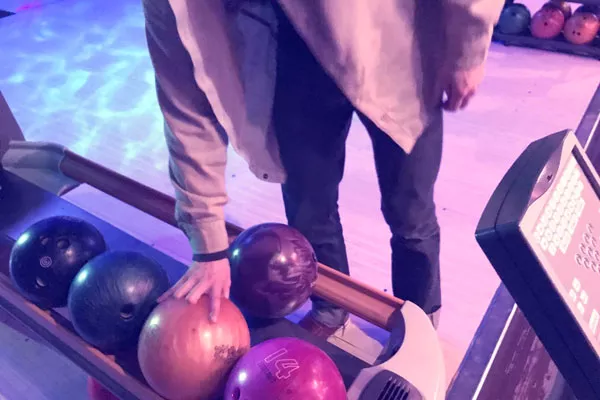 5 pm: It's happy hour at Lava Lanes, and when in search of throwback backgrounds with which to take some selfies of our exploits, what better place than the bowling alley? First though, our first round of '90s bar drinks: None other than the glorious Captain Morgan and Coke. Don't act like that didn't sound good just now.
5:15 pm: Mozzarella sticks!! If this is a '90s party, why has it taken this long to get some sinful bar food on the table?! This was not the era of the juice bar and kombucha station, people. The '90s saw Whole Foods consciousness rising, but it also saw its way around a fried food or two.
5:30 pm: The first round turns into the second, and it's time to pick some bowling names. Sorry if your name is Ryan, Niki, Becky, Chaz or Screech, but those were the most throwback '90s names we could come up with. Some of us actually have to live with those as nicknames, even though it's no longer the '90s...
We talk about the puka shell and hemp necklaces (and hemp dresses) we should have worn for this party, and the music we loved from the '90s. In 1999, it's fair to say that grunge was on its way out, replaced, at least by much of the college set, with following Phish around and attending other live jam shows. We didn't say it was necessarily an inspired era.


6 pm: It's time for another '90s-inspired cocktail. According to Delish.com, the most popular drink in 1999 was the Cosmopolitan ("Sex and the City" Carrie fever, anyone?), with the White Russian taking 1998 ("The Big Lebowski" Dude fever, anyone?). Since we can't decide which of those drinks is actually less appealing to our 2018 selves, some get one and some get the other. It's also the time of the night when people start spilling drinks. There's always that part of the night. Push past it and order more drinks, and see what happens. It's not usually good. Regardless, isn't it interesting that two iconic movies/shows of the time may have influenced what people at the time were drinking? Note to selves, Bend beer folks: Get your brew in either a popular chick show, or a ridiculous Dude show.
6:30 pm: Nachos arrive. Back in the '90s, a lot more nachos came with cheese from a can. It's good to see it's still happening somewhere in the world.
7 pm: Screech takes home the title of Best Bowler at the Source (even though he actually works at a competing newspaper), and it's time to bail—at least, right after messing around in the arcade. How many of you had your first "date" with your middle school sweetheart in an arcade?


7:30 pm: It's a good thing it's not actually 1999, because in that case, it might have taken more than two minutes for a car to arrive to take us to the next spot. In 2018, we might be on the brink of being taken over by the robots who will steal our jobs and wrest us from our overpriced Bend homes, but hey, at least there's Uber.
7:45 pm: When it comes to O.G. spots in Bend, you don't get much more O.G. than the M&J Tavern. The Source wrote last year about how the bar just passed its 70th anniversary. Yes, there were bars here 70 years ago. Yes, we forgive you for the fact that neither you nor your bestie nor anyone in your family was here then. It's OK. We know you'll still tell people, Bend Sucks, Don't Move Here.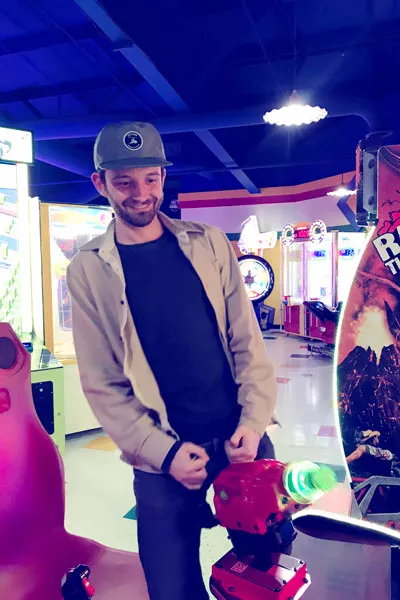 M&J is probably one of the last bars in all of Oregon with an actual cigarette machine—one that's not filled with party favors or joke stuff. It's got Actual. Cigarettes. Which you can smoke—out back, of course, 10 feet from the door. In 1999, it was still SUPER legal to smoke in many bars in Oregon. That only went away in 2009, with the expansion of Oregon's Smokefree Workplace law. Pontificate on that one, and how far we've come.
10 PM: By this time, we've purchased and/or sampled nearly every old school '90s drink we can think of. At some point, we were discussing how you could "go old school" by simply ordering a Black Butte Porter—still one of Deschutes Brewery's most beloved brews. But in the annals of '90s culture, there's one drink that serves as the Piece de la Resistance; the most '90s throwback of them all. Yes, people, we are talking about Red Bull and vodka.
Did we get to this one? Is it bad that we can't remember?
Editor's Note: This Party Like It's 1999 Party was supposed to end at Taco Bell—that bastion of all supplemental nutrition for 1990s teenagers. However, apparently you have to get to a Bend Taco Bell before 10 pm in order to sit in the dining room. Bend Sucks. Don't Move Here.