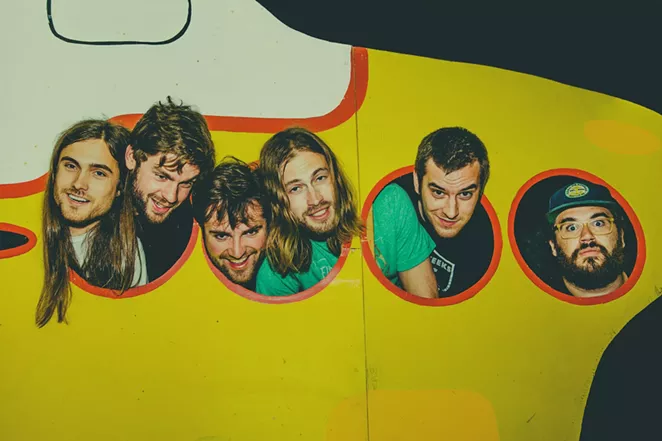 Poop-Stars
Pop-punk Diarrhea Planet holler their way into hearts
How many guitars is too many guitars? No such thing, said Jordan Smith, singer and guitarist (aren't they all?) for Nashville's young aggressive arena rockers Diarrhea Planet. Four guitars is the lucky number for the band, and Smith explained that the quartet doesn't feel like overkill.
"You could have four guitars playing rhythm and you'd have sticklers in the audience saying 'Well there's no point,' " winced Smith in a mocking falsetto. "The point is you want it to sound huge, duh!"
Huge is an understatement for the six-piece who blast screaming guitar solos (sometimes three at a time) coupled with shout-along vocals, a crusty charisma and a name that stays plastered in your brain like the cocaine mountain scene in
Scarface
. Smith's favorite euphemism for the band came from a recent show in Denver where another musician deemed them some middle ground between My Bloody Valentine and Andrew WK.
"That's what I'm talking about!" said Smith, "Four guitars turned up really loud to where the harmonic content creates a wall that hits you. You can focus on individual, parts but at the end of the day it's big rock hooks."
To me—a 25-year-old west-coaster who grew up listening to '90s pop-punk icons like Blink 182, Smashing Pumpkins Pavement and a cocktail of other garage alt-rockers and pop punkers—Diarrhea Planet's mix of alternative and mainstream rock just makes sense. It's nostalgic for an era when half-naked sock-clad, longhaired rockers commanded MTV and crowd surfing was a requirement not an option. It's an era that I've heard apathetic friends glaze over as a record skip in the history of rock and roll, not far enough removed from memory to contextualize its influence, but out of sight, meaning out of mind.
They are wrong. They're all wrong. And Diarrhea Planet proves it. With a sensibility that falls somewhere between ridiculous humor and taking their noodling way too seriously, their 2013 full-length
I'm Rich Beyond Your Wildest Dreams
is a face-melter, and their live shows, with the epic fist-pumping closer "Ghost with a Boner," is one you have to see
in person
to believe.
The band also proves that poop jokes are still, and will always be funny. ALWAYS.
"Everybody can relate to poop jokes because poop is such an inconvenient thing," said Smith. "Everyone has had a bad moment with poop. Hopefully I don't ever have to go to Diarrhea Planet. Hopefully I can just keep playing in a band called that."
Diarrhea Planet
Pickathon Music Festival
Fri., Aug. 1
1am @ the Galaxy Barn
Sat., Aug. 2
4:20 pm @ the Woods Stage