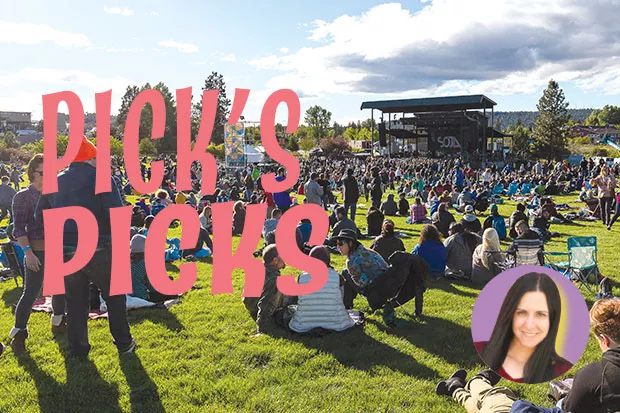 Old Mill District
Les Schwab Amphitheater during last year's Slghtly Stoopid show.
May 30

Les Schwab Amphitheater
A couple years ago my roommate and I drove to Edgefield in Troutdale, Ore. to catch Ray LaMontagne. Needless to say, we were not disappointed, and you won't be, either. With this season's show including Neko Case, there's even more reason to be excited. LaMontagne's new album drops this week, but there's also something to be said about his classics. Who can help but melt for "Let It Be Me" and "You are the Best Thing?!" Swoon...
June 21-24
4 Peaks Music Festival
Stevenson Ranch
For many music lovers, summer = festival season, and fortunately for you, you can start your festival season in your own backyard. Held at Stevenson Ranch, 4 Peaks Music Festival brings nationally touring acts to Central Oregon for a weekend of music, yoga, camping and general merriment. Highlights of this year's festival include The New Mastersounds, Nahko and Medicine for the People, Mother Hips and The Brothers Comatose. Local familiar faces include the Maxwell Friedman Group, Chiringa and the Travis Ehrenstrom Band.
July 8
Social Distortion
Midtown Ballroom
Who doesn't love some good, ol' fashioned punk rock? The last time Social Distortion graced Bend with their presence was at the packed Century Center. With famous covers including Johnny Cash's "Ring of Fire" and Social D classics such as "Ball and Chain," you can get your punk rock fix with Mike Ness and one of the country's favorite old school rockabilly bands.
July 26
The Decemberists
Les Schwab Amphitheater
For the last couple months, I haven't been able to stop playing The Decemberists' new album, "I'll Be Your Girl." The album takes on heavy break-up themes and mixes the awful feelings we have during these times and puts them to an upbeat sound. Personally, I'll be crossing my fingers to hear "Sucker's Prayer," "Severed" and "I'll Be Your Girl."
August 3-4
Sisters Rhythm and Brews Festival
Sisters
Sisters may be best known more for its folk festival, but this year, the small musically inclined town also brings us the Sisters Rhythm and Brews Festival. The new festival includes two stages with performances from a variety of high-quality musicians. The lineup includes John Mayall andCurtis Salgado, as well as local favorites including Portland's Hillstomp and Company Grand.
August 5
Les Schwab Amphitheater
Seriously, it blows my mind this one isn't sold out yet. It's the freaking PIXIES! With hits like "Where is My Mind" and "Here Comes Your Man," The Pixies will go down in '90s alternative rock history. Beyond the total excitement of having The Pixies in Bend, I'm even more stoked for the opener, Sleigh Bells, an experimental rock/pop group with cutting lyrics. "Rill Rill" and "Infinity Guitars" have an incredible bite while "Bitter Rivals" has you singing and moving your hips.
August 7
Shakey Graves
Oregon Spirit Distillers
Some may remember seeing Shakey Graves before he hit it big with "Dearly Departed" at the Sisters Folk Festival. The folk singer and songwriter has an emotional sentiment that touches listeners where it counts — in the heart. In my opinion, there are few folk/rock hits that have hits as hard as "Dearly Departed" in the last several years. Now, Graves tours behind his latest album, "Can't Wake Up."
August 18
Jessica Hernandez and The Deltas
Volcanic Theatre Pub
Several guarantees come to mind when I think of Jessica Hernandez. You will dance. You will sweat, a lot. You will be stunned. Hernandez and her gang have made Bend a regular stop on their summer tour circuit for the last several years, and having seen them nearly half a dozen times, I can't stress enough how incredible of a performance this band puts on. Hernandez herself is a force to be reckoned with. You will not be disappointed.
August 25
Brandi Carlile
Les Schwab Amphitheater
Brandi Carlile sings exactly the feelings I feel. From the moments where you're so in love you can hardly stand it, listeners find it easy to relate to songs such as, "I Belong to You" and "If There Was No You." I can't stop listening to "Every Time I Hear That Song" from her latest album "By The Way, I Forgive You." It tells the story of a scorned lover who years later can finally forgive her former partner, but still feels the feels when she hears a certain song. I hear you, girl. And can't wait to see this amazing performer live again.
August 31
Portugal. The Man
Les Schwab Amphitheater
If you don't shake your hips and shoulders to "Feel It Still," I'm not sure we can be friends. Portugal. The Man's funky, indie rock jam inspires movement unlike any other song I've heard in the past year. Add in past hits such as "Modern Jesus," "Purple Yellow Red and Blue" and "Live in the Moment" and you have an evening of pure indie rock bliss. Prepare to dance, my friends.
September 19
The Head and The Heart, Blind Pilot
Les Schwab Amphitheater
Before they announced the season closer at the Amphitheater, a friend had caught wind of the lineup and teased me that they knew it would be something I'd love. She hit the nail on the head — The Head and The Heart, that is. I've loved the band since their first album and hits like "Rivers and Roads," "Lost in My Mind" and "Down in the Valley." Their latest album spanned hits like "All We Ever Knew" and "City of Angels." Word on the street is they'll be coming back with new music and I, for one, can't wait!