B
end Park and Recreation District and the City of Redmond have announced the opening of park playgrounds starting today.
The opening of playgrounds is in compliance with Phase Two guidelines for Deschutes County. Swings are meant to be swung on, not tied up in a knot. So now instead of yellow tape across slides, we might finally see smiles and laughter.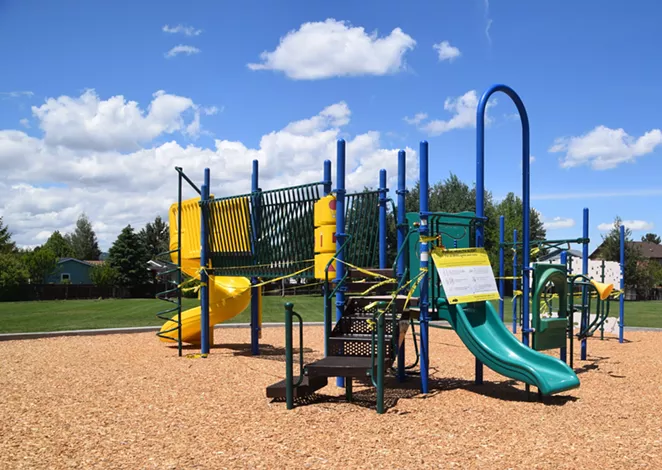 Isaac Biehl
Providence Park during its closure.
"We know that kids have been anxious to play so we are excited to reopen the playgrounds and encourage everyone to follow the guidelines for a safe summer," said Annie McVay, Redmond's Parks Division Manager in a press release.
People still have to follow some temporary guidelines in both Redmond and Bend:
Playground visitors are encouraged to wash hands before and after visiting a playground.


Maintain physical distancing of at least 6 feet.


Bring hand sanitizer and/or sanitizing wipes for personal use on any surfaces touched.


Any individuals who are sick or may have contacted someone with COVID-19 should stay home.

These rules are important to follow as playground equipment will not be sanitized by the park district.
According to the CDC,
it may be possible that a person can get COVID-19 by touching a surface or object that has the virus on it and then touching their own mouth, nose, or possibly their eyes, but this isn't thought to be the main way the virus spreads.
"We are so happy to be able to reopen playgrounds," said Michelle Healy, deputy director for Bend Park and Recreation District in a press release. "We ask families and children can take responsibility and do their best to help keep the playgrounds open and safe for everyone to enjoy."