Choosing the right preschool for your child is no small task. From navigating preschool philosophies to understanding curriculums to choosing the right class size, there is a lot to consider. The preschool years are crucial for your child's development, and with the shortage of preschools and preschool slots available in Bend, local families need to start looking early. But how early and where do you start? With the help of local experts, we have come up with some tips and information to make your preschool experience a little easier.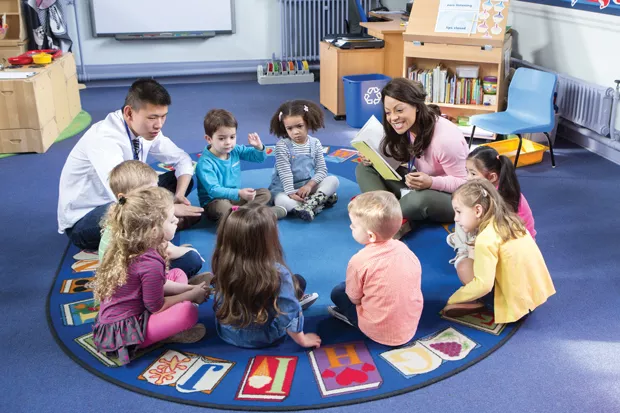 When to Start Looking for a Preschool?
The preschool age range runs from three to six years old. Mindy Noe, owner of The Village Preschool in Bend, says families should start looking for a preschool for their child early. "If parents are seeking a preschool for both learning and daycare purposes, I encourage them to start looking once they get pregnant. If they are specifically looking for preschool only, I'd suggest starting to look around age one to make sure you can get into a place by the time they are three."
According to Noe, some preschools require students to be potty trained before they can enroll, which can create an additional hurdle for parents.
Preschool Learning Styles & Philosophies
Throughout Central Oregon, there are a variety of preschools with curriculum based on different teaching philosophies including Montessori, Waldorf, Reggio Emilia and play-based. Noe says that when it comes to preschool types and styles it's not a one size fits all. "I find it is best to find a place that fits your family values and makes you feel confident knowing that your child is safe, secure, being loved and nurtured while you are away from them," explains Noe. "The preschool age is such a crucial time in a child's development, while you want them to have a quality educational experience, you also want them to have a beneficial social and emotional learning experience."
Similarly, Jennifer Gordon, owner of the Active Learning Academy, says, "Programs that promote a specific philosophy should align with your family's parenting style. If the program complements your family dynamic, it will really set your child up for success."
All preschool programs, regardless of style or philosophy balance play, structure and routines. If you want your child to engage in more open-ended play that allows them some ability to direct their learning experience, then a play-based school would be best. If you think your child needs more structure with freedom in their learning, then a Montessori program might fit those needs. Taking time to research the various philosophies and how they may or may not complement your family's values, beliefs and home routines is well worthwhile.
Preschool Tours
Once you have decided on a preferred preschool style for your child, it is time to start touring facilities. Tours give you an opportunity to determine whether a school is right for your family while experiencing the environment firsthand. You'll want to attend the tour prepared with a list of questions.
Gordon says that when choosing a preschool program for your child, communication styles and connection with teachers and directors are incredibly important. "We rely heavily on open communication with parents. Feeling comfortable asking questions, sharing concerns and celebrating milestones together is a huge benefit for your child and for the program working with your child."
Additional topics and questions to address while touring a facility include their general policies (get a copy of their handbook), teacher support and turnover, the teachers' formal training, and what form of discipline (if any) is used. You will also want to find out what kind of certification the preschool facility has. Certified Family (CF), Certified Center (CC), and Registered Family (RF) are the most common certifications and there are requirements that must be met for facilities to maintain them.
If you have a friend or family member who has a past or currently enrolled child at a preschool you are interested in, make sure to inquire about their experiences. Gordon points out that "knowing a preschool program has friends or family members' children already enrolled in the program is incredibly beneficial. It allows for your own community to grow together and will help parents to have additional support during these early learning years." It is also common for touring parents to ask preschool owners and directors for references.
A Final Reassurance
Before signing off on a preschool and paying that enrollment fee, Noe suggests researching the facility on the Oregon Department of Education's Early Learning Division (ELD) website where you can view the complete record of every preschool in Oregon's evaluations and see if they have any non-compliances recorded. Knowing your child's early learning years are in safe hands is priceless.
What to Ask?
Gordon suggests asking the following questions during your tours:
1. What happens when my child is having a rough day?
2. How do you communicate daily activities?
3. What is the teaching style of your program?