When asked whether his newest symphony was borne of a desire to bring back a positive association for the massive, scenic Malheur National Wildlife Refuge of southeastern Oregon, Chris Thomas is quick to respond in the affirmative. "That was the entire point," he confirms.
Jeff Sorn
Chris Thomas incorporated sounds including wind and birds into his composition inspired by the Malheur National Wildlife Refuge, which makes up the end portion of the upcoming spring concert.
While hiking in Wisconsin, the Central Oregon Symphony cellist and composer was inspired by the pure, musical sound of some simple bird calls. Several months later, COS Director Michael Gesme approached him regarding a musical composition that would incorporate sounds of nature from the Malheur preserve.
The idea actually started with Bendite Jay Bowerman, a retired biology teacher (and former U.S. biathlon champion). Bowerman told Gesme he was listening to a piece of music that incorporated a lot of nature sounds, and it got him thinking.
"Because it all kind of happened around the same time that the—how should I say—the trials of the folks that were at Malheur, when all of that was kind of coming down," Gesme recalls. "Because he was a naturalist, that whole thing kind of (upset him)." Since the occupation of the refuge's headquarters complex by armed protesters in 2016, the name 'Malheur' has become closely associated with that turn of events.
"He was frustrated with that," Gesme explains. "It's a place that's been around thousands of years, occupied by Native Americans for 10,000 years. He was trying to dream up a way to reclaim Malheur as the place that it is and not the people who came for a couple of days and did all of that. That was the spark."
Gesme suggested to Bowerman a few composers he thought might be interested. "I knew the kind of stuff that Chris had done. What he was describing, and what I know Chris does well. We talked to Chris first—and we didn't need to talk anymore." At that initial meeting, Bowerman asked the composer how he felt about the idea.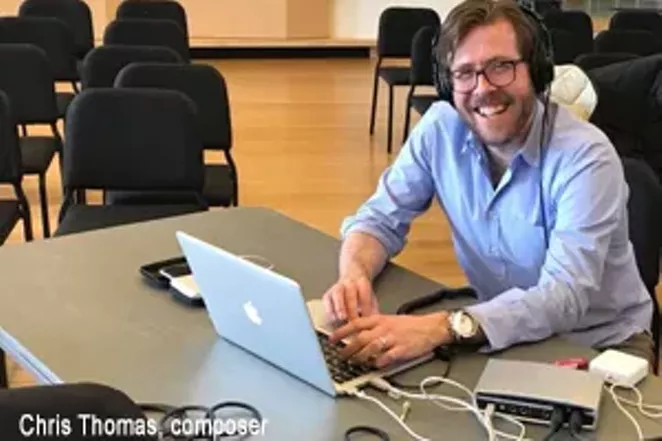 "I said it's a shame," Thomas says. "There's this place in Oregon all my friends around the country now are looking at as synonymous with political extremism and divisive rhetoric. It's something I'm tired of."
Bowerman suggested they "hijack that conversation" and remind people of something they all have in common. "We've got this beautiful place we can all agree is worth celebrating."
Thomas says his favorite sounds from the recording sessions at Malheur are of the wind in the grass. "One of the first overwhelming experiences I had was the actual vastness of the place," he recalls. He was also impressed with the natural diversity of the landscape. "You go down to some places and it's a wetland. You would not expect that in the middle of a desert. Then you go far south and it starts getting mountainous, with lakes, then after a little bit you're at the foot of the Steens."
The symphony, which makes up the second half of the concert, is heavily laden with the sounds of the wilderness refuge, echoed by and incorporated with the instruments. "I tried to write this to be cinematically evocative. Image-inspiring," Thomas says. "I'm literally painting an image with the refuge birds."
The spring program opens with "Songs of a Wayfarer" by Gustav Mahler, a song cycle for baritone and piano, featuring Zachary Lenox. "The pieces (the artists chose) ended up being the perfect lineup," Gesme says. "Music from Mozart, so you've got classical, kind of light and happy, then we've got Mahler, which is super, in-his-head, early 20th century, then you've got Donizetti, which is the Italian-opera, big fat sound, then we skip ahead a hundred years to (the Malheur). So, it's like some 200 years of music history, just by chance."
Central Oregon Symphony Spring Concert
Sat., May 18, 7:30pm Sun., May 19, 2pm Mon,, May 20, 7:30pm
Bend High School Auditorium
230 NE 6th St, Bend
cosymphony.com
Free; tickets required