Every year, February brings Valentine's Day, Presidents Day and of course, Zwickelmania—the annual statewide brewery open house, organized by the Oregon Brewers Guild. The Guild has recently undergone a number of changes, including the hiring of new co-directors Tony Roberts and Bend local Christina LaRue. I recently sat down with LaRue over a glass of Ching Ching beer to discuss her goals for the OBG and what changes we may see in the future.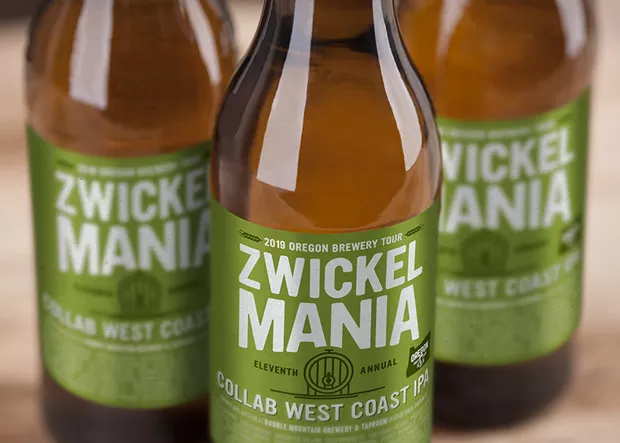 Oregon Brewers Guild
The 2019 Zwickelmania collaboration beer, a West Coast IPA.
Founded in 1992, the Oregon Brewers Guild was one of the country's first small brewers' associations. Now with 281 member breweries of all sizes, from all corners of the state, the OBG has struggled in recent years to meet the needs of the many different interests of its members—a trend LaRue looks to reverse.
"My number one goal is figuring out what we're doing right, and where we're missing the mark, then fixing it and moving us forward." Her plans include a state tour to visit brewers from far-flung parts of the state who have felt disconnected from the historically Portland-centric guild. While tapping into the historical knowledge from the "big boy" breweries in the state is paramount, LaRue is focused on meeting the needs of breweries of all sizes, "making sure we have input from everyone."
LaRue's events experience working for Deschutes, Worthy and Crux as well as her work planning the NW District Master Brewers Association of the Americas twice-yearly conferences will play a large part in the guild's future. The guild has decided to kill off the somewhat outdated and poorly attended Portland Cheers to Belgian Beers Festival and is contemplating a new "experimental" beer fest.
"Innovation is where we're headed," notes LaRue. The guild is making an effort to have an increased presence at other beer events as well, such as the recent KLCC Beer Festival in Eugene, in an effort to connect with beer drinkers as well as member breweries. Of course, no event better connects brewers and beer drinkers than Zwickelmania.
Now in its 11th year, Zwickelmania is billed as a statewide brewery open house that allows beer drinkers, in LaRue's words, to "peek behind the curtain and get a feel for what brewers do." Eighteen locations in Bend and Redmond will host Zwickelmania events this Saturday from 11am to 4pm, including Boneyard, Bend Brewing Company and Sunriver Brewing Company's production breweries —not usually open to the public. For the first time the OBG organized a statewide collaboration West Coast IPA, brewed at Double Mountain in Hood River. Thirty-seven breweries in all, including local brewers Wild Ride, Silver Moon, Immersion, Deschutes, Worthy and Bend Brewing Company participated in the collaboration and will have bottles for sale as part of the Zwickelmania festivities.
LaRue says the collaboration beer is something she's really excited about.
"Looking forward, I'd like to build on that," she says. Proceeds from the collaboration will go to OBG to help fund its mission of promoting Oregon beer and helping Oregon brewers pave the way into the future.
Zwickelmania
Sat., Feb. 23. 11am-4pm
Participating Breweries
oregoncraftbeer.org/zwickelmania
Free to attend