Two sisters. One boyfriend. And a harrowing family dysfunction on full boil—one that's growing ever hotter with each passing moment.
Throw in a loaded .357 magnum and you have more than enough ingredients for a darkly comedic trip through Los Angeles' already pressurized Hollywood Hills – where dreams go to die on all those narrow and dimly lit roads. That's because the show business "industry," as it's known in L.A., can chew through the emotional switchboards of even the most mentally stable, well-balanced individuals.
But that's not even close to whom we're dealing with here.
"Fade In: A Twisted Tinseltown Thriller" quickly dispenses with the tinsel. Everyone in this three-character play, making its world premiere in Bend, is on the verge of a breakdown. Or, to be blunt, they've already broken down. Nerves are exceedingly raw from the start, with Sheila (Catherine Christie), already packing her bags in a vain attempt to move out of the stylish but angst-ridden apartment she's sharing with older sister Devon (Skye Stafford).
Judging by the way these two interact, you get the feeling that Sheila, this delicate flower, has tried to make a run for it on more than a few occasions. While she's flinging her clothes (and psych meds) into a suitcase, world-weary Devon remains busy at her desk—grudgingly churning out a soft porn novel.
Carol Sternkopf
Max (Robert Marquez) confronts sisters Sheila and Devon (Catherine Christie and Skye Stafford).
The sisters are securely locked in an ever-evolving battle of words—one that started way back in an infinitely messy childhood, and will seemingly never reach a tidy conclusion. It's a dispute filled with enough alarming layers to challenge (and worry) any therapist. Still, Sheila and Devon aren't really in a big hurry to pore over their most unmentionable family secrets.
At least not yet.
Sheila, who imagines herself the more civilized of the two, should know better than this sibling rivalry-fueled infighting, what with her advanced degrees in Clinical Psychology. (Makes you wonder what your therapist really does when you're not looking.) Devon, on the other hand, turns tormenting her little sister into an art form, even hiding her meds at one point.
Playwright/Director Patricia West-Del Ruth, who hopes to make "Fade In" into a film (naturally), keeps the festivities moving at a torrid clip. Her fast-paced and often quick-witted dialogue is laced with plenty of "inside Hollywood" references to everyone from director M. Night Shyamalan to actress Claire Danes. But West-Del Ruth saves the most reverence for filmmaker Quentin Tarantino, whom she admittedly admires, even opening Act Two with a Tarantino-esque flair—putting one character in an extremely, and almost difficult to watch, compromised position.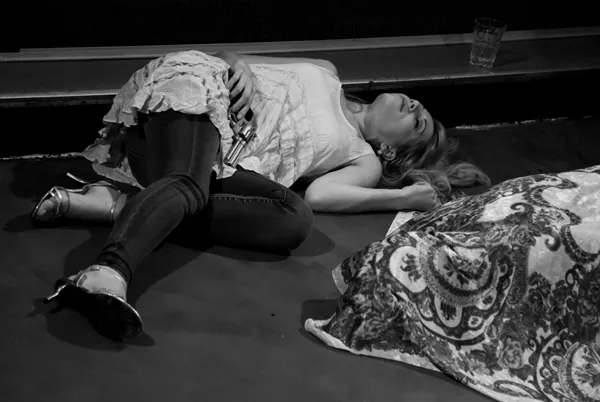 Carol Sternkopf
Events take a dark turn in "Fade In: A Tinseltown Thriller."
That character would be boyfriend Max (Robert Marquez), who suddenly finds himself in what you might call a "bind." Whose boyfriend is he? Devon currently lays claim to "girlfriend" status, even though she endlessly ridicules him, insisting throughout that he has Asperger's Syndrome. There are hints of Max's involvement in the sisters' childhood traumas, including an infamous round of "Spin the Bottle." Anyway, it's Sheila who loves him more, but seems blissfully unaware of the part he played in the above-mentioned turmoil.
The acting is terrific throughout—especially given the generous portions of West-Del Ruth's snappy lines the characters had to memorize. While Sheila and Devon drive the verbal fireworks in Act One, it's the frustrated actor Max who delivers a classic and quite memorable "only-in-L.A." monologue. This comes during an onstage audition-turned-tirade, in which he mercilessly unloads on those in the biz who stubbornly refuse to let him transform into the mega-star he's so destined to become.
If only those bothersome writers, producers and directors would just get out of his way.
Not a single calming influence is to be found on this fateful night in Hollywood. We know these three hotheads are headed for trouble. All that's left is an audience anxiously awaiting to find out just how deep it's going to get.
Fade In: A Tinseltown Thriller
220 NE Lafayette Ave., Bend
Thu -Sat. 7:30pm; Sun. 3pm through April 15
541-312-962
$19 adults / $16 students & seniors