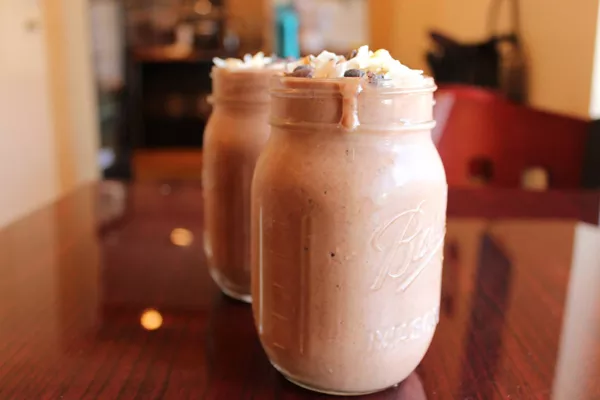 Lisa Sipe
Mouthwatering smoothies on offer at Pure Joy Kitchen in Bend, Oregon.
Gluten-free, dairy-free, raw food enthusiasts: start your happy dance. Pure Joy Kitchen, a plant-based organic cafe, is now open on Colorado Avenue, in the previous location of Sarah's Raw & Vegan cafe. The new spot serves up smoothies, desserts, medicinal elixirs, coffee, bowls and wraps for breakfast and lunch.
Elaina Love, a culinary school owner and pioneer in plant-based living, founded the cafe. Love started eating a raw diet 20 years ago when she wasn't feeling well and had low energy. Once she changed her diet, Love says she felt better and the food made her joyful. She started the cafe to spread the joy and make others feel good.
Lisa Sipe
Elena Love, founder of Pure Joy Cafe
You don't have to be on an elimination diet to really enjoy Pure Food Kitchen. For those new to raw food, start with the cultured cheese and cracker plate with macadamia cheese and raw sprouted seed crackers.


Lisa Sipe
Desserts are a sweet treat at Pure Joy Kitchen
I don't know how they do it, but this tastes like spinach artichoke dip. The Choco Maca Smoothie with coconut milk, raw cacao, maca, chia seeds, coconut sugar, vanilla and mineral salt drizzled with raw chocolate sauce is crave-able. I found myself wanting one the next morning and all I tried was a sample. Order the seasonal Strawberry Cream Pie, if they still have it; it's so creamy, light and delicious!
If you want to learn how to make raw, unprocessed, plant-based meals at home, Pure Joy Kitchen will offer cooking classes in the future.
Pure Joy Kitchen
519 NW Colorado Ave., Bend
Mon.-Fri., 9am - 4pm
Grand opening party July 5