B
end makes its way onto a host of Top 10 and "Best" lists.
The city has been listed among the
fastest-growing cities
in the U.S. this year, and routinely gets accolades for being among the
best outdoor destinations
, according to this mag or that.
But this could quite possibly be the most off-base list our fair city has made thus far. On Jan. 10, USA TODAY released a list of "
The Coldest Inhabitable Places on Earth
." Listed are numerous spots in Sweden, Iceland and Poland... for good reason.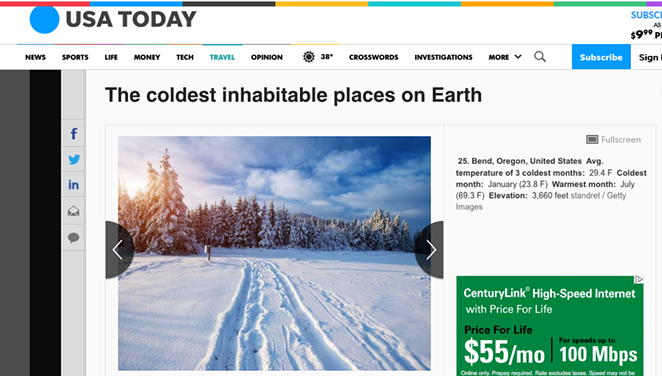 USA TODAY
A look at the listing for Bend from Jan. 10, 2019.
Also on the list, at #25: Bend, Ore., USA.

The site says our "warmest month" boasts average temps of 69.3 Fahrenheit. That seems to be in line with averages from the
National Weather Service
, but still—we are really on par with Sweden?! Poland!? Minnesota has to be colder, right?!