Go Fund Me Hurricane Irma
Devastation caused by Hurricane Irma
A
bout three years ago, when Bend band Larry and His Flask decided to go on hiatus, co-founder Jamin Marshall gave up Beer Town, USA, for sunshine and ocean life. Marshall moved to St. Thomas, where his girlfriend Victoria Odinet had been living and working on boats.

Kelcey Lassen Canfield | Lassen Music
Marshall and Odinet have been living in St. Thomas since then. Fortunately, when Hurricanes Irma and Maria hit, Marshall and Odinet had already left the small island. The two spent the summer in Canada, where Marshall is a dual citizen.
As cliché as it sounds, timing is everything. Odinet had been working at the sailing center in St. Thomas when her friend offered her a job in Denver. That same week, the sailing center and the home Marshall and Odinet rented were destroyed by Irma. Marshall says they had been planning on eventually moving to Canada, so had brought important documents, as well as their dogs, Beebop and Rocksteady. Marshall says they didn't have anything to go back to.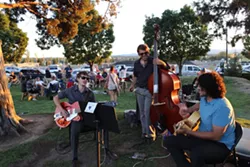 Hot Club of Bend | Elizabeth Magallanes
"The people who did leave, that implies that they had enough money to leave and could have some sort of support in the States," Marshall says. "Unfortunately, there are a lot of poor people there and they're stuck. They need water, food, tarps for their roofs, it's been an unfortunate set of events. Irma came and ripped the roofs off, then
Maria dumped water in. Now everything is damaged and soaked. Everything is covered in mold."
Marshall couldn't sit idly by.
"I
wanted to get them water and food somehow. A couple of my friends own a boat and make their own pizza on it. It's really neat. They were buying supplies in Puerto Rico prior to Maria. They were bringing water and food, taking people to Puerto Rico. When the second one (hurricane) hit, their whole operation became overworked. Now, they're looking for other people to help. My friend put up a GoFundMe."
Marshall and the Larry and His Flask boys decided to plan a benefit concert and donate all of the proceeds to their friend's campaign. Marshall's friend Scott Kosmach will use the funds to buy a shipping container filled with water, food, tarps and solar-powered chargers for phones.
"A lot of the other island nations that don't have big countries backing them are even worse off," Marshall says. "We can't make a huge impact, but we can help a little bit. We can get people drinkable water and tarps. Because right now it's really hot and it hasn't been raining lately, no power, no air conditioning. One of our good friends there, as a big treat, said they ran the generator a little longer than usual one night and watched a movie."
The Virgin Islands Benefit Concert at The Capitol will also include Mosley Wotta, The Hot Club of Bend (which includes Marshall's brother Jeshua, also a member of LAHF) and Kelcey Lassen Canfield.
Virgin Islands Benefit Concert
Thurs., Nov. 2. 6pm.
190 NW Oregon Ave., Bend.
By donation.
Donate at: