Somewhere in the pantheon of the best holiday rankings, Record Store Day is up toward the top. Not only is it a nostalgic practice for some, but it's a great way to support an industry that most probably figured would be dead by now.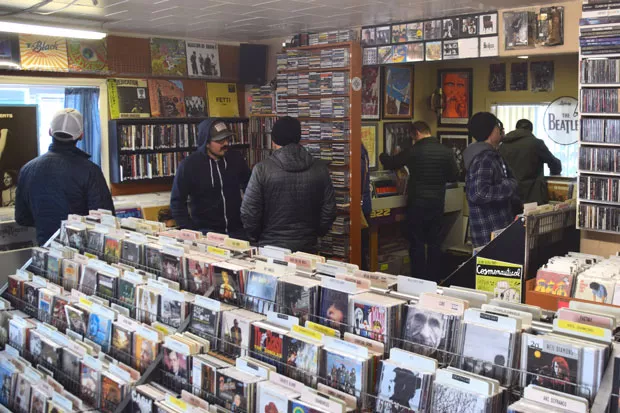 Isaac Biehl
Music listeners and collectors arrive early as possible to find hidden gems throughout the store.
RSD happens twice a year – once in April and once in November – and has officially become a tradition for many since it began in 2008. This past Saturday, the Source headed out to check out the scene at Recycle Music—filled with a variety of music lovers.
"That's the thing, sometimes I get people in who I don't see all year because of Record Store Day," says Recycle Music owner Keith Schuman. "We treat it as a customer appreciation day. This way we can thank people for helping us stay in business."
For some, RSD is an opportunity to find those limited edition releases you won't see throughout the year (some hot commodities this year were the "Bohemian Rhapsody" soundtrack and the 50th Anniversary of Woodstock releases). For others it's just a way to make sure they're supporting local business.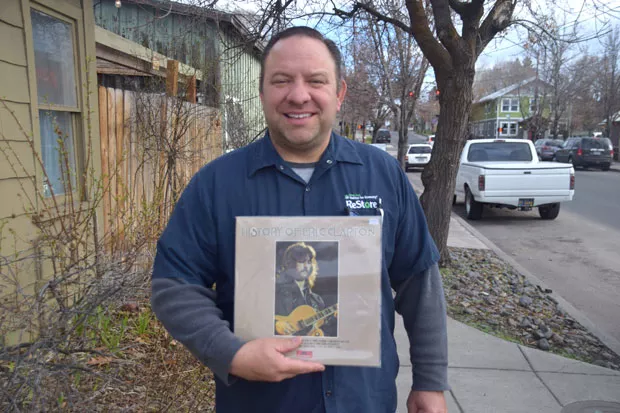 Isaac Biehl
Cole Smith shows off his "A History Of Eric Clapton" album.
"I found a couple of albums. One is a history of Clapton—it's a German import. So, it's a really good live recording. Then I found a Prince album that I've been looking for," said avid record-buyer Cole Smith. "I like Record Store Day because there's albums that come out that there's a limited release for. Plus, I like to support Keith. He's great in the community. I love the fact that his store is what Bend should be about."
Two longtime Recycle Music employees, Travis Weaver and Dakota Foote, both enjoy the experience from their perspectives as workers. Weaver remembers the feeling of being young and excited for release days, and Foote emphasizes how that feeling is expanded on RSD.
"It definitely does bring hype—and I do like the hype," says Foote. "People are like waiting outside the door, rushing in. It's not like a normal release."
Talking to another RSD attendee, Ben Brewer, after he made his purchase, he told me RSD is a way to bond with his brother, Chris. "I started going because he's more into vinyl than me, historically. We kind of started coming together the last few years so I'd say he is more of the reason that I came down to Record Store Day than maybe myself," Brewer says. "There's always a few unique things and the spectacle is a part of the process. I found a first live recorded Doors set. We were looking for a few other things that we didn't come up on but that's how it goes."
The next Record Store Day is on Black Friday, Nov. 29. But that doesn't mean you can't find some more goodies before then.