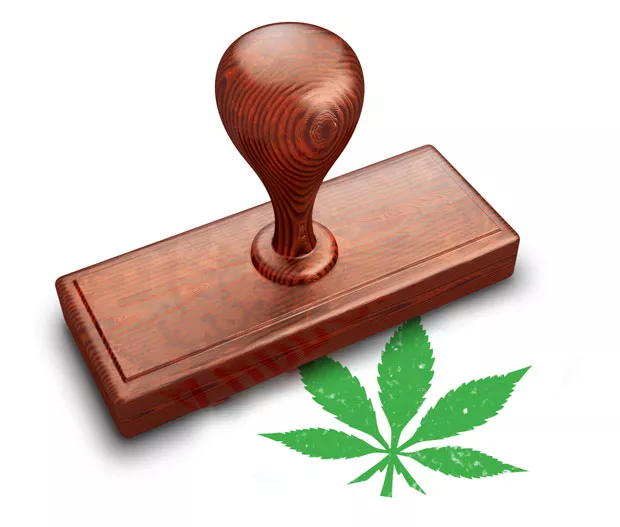 While Oregon's recreational cannabis industry strives—and often succeeds—in being Daniel Day-Lewis (aka, a "good actor"), there are times when we take actions more like Adam Sandler (aka, "bad actor"). Growers, producers, dispensaries and others face judgement and penalties on two fronts: the electronic public square of social media, and the more fearsome regulatory agency smackdown, which adds stiff financial penalties to the Scarlet "C" of public opinion.

The very definition of a "bad actor" is open to interpretation. What is intentional and deliberate (shipping 300 pounds of weed to Ohio? Duuuuuude, come on), or something that is a matter of lazy record keeping or simply legitimate confusion regarding a complex system of frequently changing rules and regulations? (Neglected to perform some action with the cannabis tracking system? Yeah, we're cool.)
Recently, the Oregon Liquor Control Commission has been bringing the mamma jamma hammer down hard on numerous cannabis businesses across Oregon, imposing fines of thousands of dollars and—perhaps of greater financial impact—suspending or revoking licenses. True, rules were passed that the OLCC is tasked with enforcing, and said enforcement helps keep the Bible thumpin' Attorney General Jeff Sessions from interfering in our cannabis programs.
Yet punishments don't always fit the "crime," with some fined for infractions such as "neglecting to tag plants." Because to issue a warning and not impose a hefty fine and/or suspension, those untagged and potentially immature plants could rise up to kill you and your entire family while you sleep. It's a matter of public safety and has nothing to do with raising revenue.
In Colorado, enforcement of cannabis regulations recently took a complex turn for Sweet Leaf dispensaries. The Denver Post produced a piece on how dispensary powerhouse Sweet Leaf of Colorado took a major blow after a year-long investigation by the Denver Police Department.
Sweet Leaf was wildly successful, with 300 employees producing over $5 million a month in sales from over 25-plus dispensaries and plans for expansion into other states. They were also smoking their competitors, selling nearly four times the amount of flower per day as other dispensaries—6.75 pounds on average. Investigators allege this was due to some customers engaging in a practice known in the industry as "looping," in which a customer purchases more than the legal limit of cannabis allowed by returning repeatedly to a dispensary and making multiple purchases in a short period of time.
In Oregon, non-medical consumers are allowed to purchase 1 ounce per day. It's the same in Colorado, except the rules were originally written as: "A retail marijuana store and its employees are prohibited from selling more than 1 ounce of retail marijuana flower.. during a sales transaction to a consumer..." Oh, what a difference a "day" makes! According to one of the authors "To be frank, it did not occur to us on the task force to impose any per-day limits." Nice work, Frank.
In May 2017, the same task force clarified language, and the sale of 1 ounce per consumer per day was established, with a start date of Jan. 1, 2018.
Officials determined that from June 2016 to December 2017, Sweet Leaf made "a total of 2,721 "looper sales" to 227 individuals," which were undoubtedly re-sold in other states. No one has that many friends who roll fatties using your stash.
According to police, one customer made 24 trips to the same dispensary in less than four hours, and another purchased 41 1-ounce containers from the same location in a single day. ("Are you a member of our rewards program sir?" "Jesus, Zach, it's me. Stop smoking in your car on shift, bro.")
Sweet Leaf's lawyers point out, at the time of the sales, the "per day" limits were not yet in place. Police raided Sweet Leaf just weeks before the new limits took effect, effectively charging them for a violation of rules not yet in effect. Future crimes! Or rather, regulatory compliance violations.
The case is ongoing, without any indictments issued, and virtually all charges against the budtenders arrested. But Denver's marijuana policy chief is moving to revoke the 24 licenses in Denver, and state regulators have suspended three additional licenses.