If there is a "Bend sound," what is it?
How do local music fans play into the scene?
Kyle Switzer
Maya Garcia from the Band Dr Green Dreams plays a set during the High Desert Underground Music Festival in 2019.
And where do local music makers like to play most?
As part of this week's feature on the Central Oregon music scene, I checked in with some local musicians to answer these questions and more.
Name: Scott Oliphant
Band: The Color Study
What to love about playing in Bend: I love how supportive the local music community is toward each other. It was awesome to regularly see 150 people + at local shows, whether at Spoken Moto, The Brown Owl or The Volcanic.
Favorite Central Oregon venue: My favorite venue has to be Volcanic Theatre Pub, mostly because it is a "real" venue like you'd find in a bigger town, and for a rock band like ours it has a lot of things that just make the experience more enjoyable. We've had amazing shows at Spoken Moto, Brown Owl and Father Luke's Room, amongst others.
Name: Maya Garcia
Band: Dr Green Dreams
What to love about playing in Bend: The music lovers here really make playing live fun! There are some true-blue music fans; they make it so much fun. The Bend music scene is unique in that musicians of so many different styles come together and are super supportive of each other. It doesn't feel as competitive as other places we have been; however the quality of the music is top notch!
Favorite Central Oregon venue: M&J Tavern holds a special place in my heart. They do a wonderful job supporting local musicians, giving them a place to practice and a place to put on a show!
Name: David Von Schlegell
Band: Cosmonautical
What to love about playing in Bend: I love the eclectic mix of sounds and the community aspect of this region. Friendship and like-mindedness often make up our local scene, rather than a specific genre or fashion.
Favorite Central Oregon venue: Volcanic Theatre Pub.
Name: Jeshua Marshall
Band: Larry And His Flask and Guardians of The Underdog
Kyle Switzer
Jeshua Marshall rips the stand-up bass during a set at Volcanic Theatre Pub. Marshall recently came out with his debut single, "Go Go," last month.
What to love about playing in Bend: I love that music is constantly flowing in Bend. Bend is quickly becoming a little magnet for musicians. There are so many incredible players that live here I find myself constantly busy playing with many folks. I grew up in Redmond in the late '90s through the early teens. I've watched the music scene grow and die many times over. It used to be a lot harder to find places to play. We would buy generators and take our sound systems out to the woods to have punk shows out on BLM land or rent Grange halls in order to have places to perform.
Favorite Central Oregon venue: My two favorite venues to play in Central Oregon are the Volcanic Theatre for the sound and vibe, and the Domino Room for the history I've had with that room. It was the first real music venue I got to play at when I was 16, just getting Larry And His Flask started.
Name: Justin "Red Buffalo" Lien
Band: Queen Chief
What you love about playing in Bend: I loved playing Bend because of the winter stormy, but mostly beautiful, drive there.
Favorite Venue: My favorite venue by far in Central Oregon is Volcanic Theater Pub. It's spacious but with a smaller club feel at the same time. I like clubs you can really connect with the audience and that has it.
Name: Chandler Ryan Price, aka Chandler P.
Band: Solo rap artist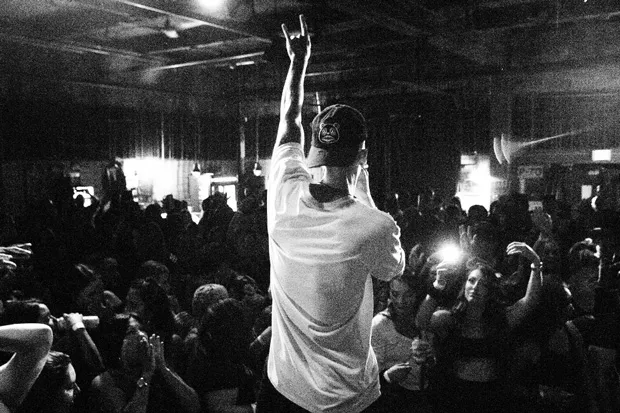 Kyle Switzer
Chandler P shows the rock sign during an opening set for the Ying Yang twins at the Volcanic Theater Pub last summer.
What to love about playing in Bend: I love playing in Bend because there's so much local talent to add to the lineup, there's endless possibilities. Also, the Bend crowd is extremely interactive and energetic when it comes to watching live performances.
Favorite Central Oregon Venue: My favorite venue has to be The Domino Room because I came up in the music scene playing there. Jim and the whole Slayton/Dickey family has always treated me and my team extremely well, making sure we are taken care of to every extent.