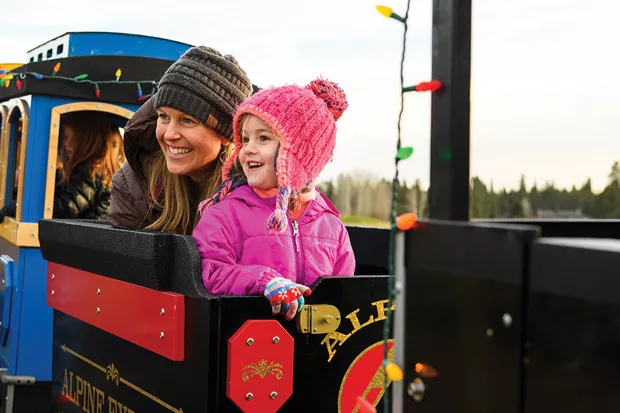 Submitted
Celebrate the holidays in style at Sunriver Resort.
Central Oregon embodies the dream of a white Christmas. In fact, it offers up the idyllic version of every holiday that takes place during the winter season. From local events and celebrations to traditions made possible by the high desert's natural gifts, the region's holiday culture draws families from all over the nation looking to celebrate like a local.

The following are some of the best opportunities to experience the holidays Central Oregon style.
Sunriver Resort's Grand Illumination (Nov. 17)
Sunriver's
tree-lighting ceremony is a tradition that brings families back year after year. The festivities include a visit from Santa himself, a petting zoo, crafts, face painting, Oregon Observatory telescope viewing, sleigh rides, live music, train rides and even fireworks. This event has something to offer every member of your family, young and old. Don't forget to bundle up. It's likely to be cold!
destinationhotels.com/
sunriver-resort.com
Turkey Day Runs (Nov. 22 & 23)
It's no secret that Central Oregonians love their outdoor activities. Ditch that Thanksgiving binge eating guilt with one of the area's family-friendly Thanksgiving-themed runs. If you like pie, then don't miss FootZone's I Like Pie 5K walk/run on Thanksgiving Day. Benefitting Girls on the Run and NeighborImpact, it is held in the beloved Old Mill District. Enter the pie-baking contest or just show up and gorge on pie at the finish line.
footzonebend.com/happenings
Another Thanksgiving Day option is Redmond's Turkey Trot, which includes both a 5K and a 10K. Participants are encouraged to wear costumes, and you even get pie at the finish line. redmondturkeytrot.com
Let's get real for a minute. No single run is going to burn the calories you'll be taking in at the Thanksgiving table. Sunriver Resort hosts their annual 5K Turkey Trot the day after Thanksgiving. Run off the pie from the day before while sporting your favorite costume at this fun event. Prizes and refreshments are served at the finish line. destinationhotels.com/sunriver-resort.com
The Nutcracker (Nov. 24)
The Nutcracker Ballet is a beloved holiday tradition for families everywhere, but the iconic Tower Theater takes the experience to the next level giving it that magical Central Oregon feel. Put on by the Academie de Ballet Classique, students will showcase their hard work and talents in this quintessential holiday performance.
towertheatre.org
.
Holiday Theater
The Nutcracker isn't the only seasonal act hitting the stage in Central Oregon. There are a variety of festive shows your family can catch throughout the winter months. Consider one of the following:
• David Benoit Christmas Tribute to Charlie Brown (Nov. 29): This Tower Theater concert features your favorite Charlie Brown Christmas songs all played by David Benoit, the composer who helped create the music for Charlie Brown Christmas TV specials that came out over a decade ago. Watch the classic tales before you go and your kids are sure to enjoy this musical.
• Holiday Magic (Dec. 8 & 9): This Tower Theater choral performance includes a dozen classic holiday carols presented by Cascade Chorale. Bend Children's Choir performs at the two matinee shows and Saturday evening's performance features Bend Camerata.
• A Swinging Tower Christmas (Dec. 21-23): The whole family will love this Christmas show. It includes stories, songs and dances and there is a 14-piece big band led by trumpeter, Jim Tenant. towertheatre.org.
Holiday Fairs
Holiday shopping is so much more fun at a bazaar or art fair. Check out wares made by local artists and craftsmen and women and support the arts. There are so many to choose from! (See listings above.)
Bend Christmas Parade (Dec.1)
You can't miss this show of holiday spirit. Held in the middle of downtown every year, the Christmas parade puts on an incredible show with floats and bands, fire engines and more. Santa even stops by! This year's theme is "Sharing Christmas Joy". Come early for the Jingle Bell Run which kicks things off at First Interstate Bank downtown. All entries support a great cause: The Arthritis Foundation.
events.arthritis.org and bendchristmasparade.org