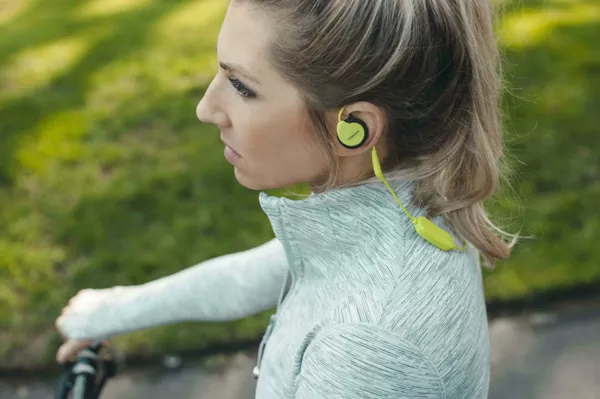 Like other Bendites, mobbing around town on bicycles, I love listening to tunes. Living near College Way and Portland, I travel through a gauntlet of street crossings and roundabouts to reach the nearest noteworthy destination, Newport Market. The dilemma of whether to listen to music while bike commuting, since it can be dangerous, has plagued me for years.

KM Collins rocking out to some tunes—safely
Earbuds dominate the recreational-listening market. Designed to penetrate your ear canal, they also often cancel out all environmental sounds—which can be uncomfortable and ultimately unsafe.
Local company Dubslabs has created a solution. In the audio business since 2011, Dubslabs made its debut with Bedphones, the world's smallest on-ear headphones. Their landmark design: a streamlined silver dollar-sized speaker that sits over the ear, and pliable strips that contour behind the ear and mount the speaker in place.
Founder Eric Dubs was inspired to create Bedphones after attempting to go to sleep wearing earbuds. "They stuck painfully into my ears when I turned onto my side. That's when I had the idea to create headphones comfortable enough to wear to bed. When I graduated school I went to work as a mechanical engineer for a major defense contractor, but I soon realized that I wanted to start my own company. I went into DubsLabs full-time and made hundreds of Bedphones prototypes before sourcing a contract manufacturer and putting a deposit down on my first 2,000 unit Bedphones order."



E

xpanding on the Bedphones model, Dubslabs' newest product, Versafit, has several features for the recreationalist. Although Versafit won't be available until Thanksgiving, I got my ears on a prototype for a demo.
The headset is wireless, has a battery life of 13 hours and can connect to devices via Bluetooth. Only possessing an ancient iPhone 5 for the purposes of music, I was pleasantly surprised to find that Versafit connected with no fuss.
Another helpful feature for the recreationalist: The headset is sweat proof. Because demo day was on a mid-autumn, precipitous afternoon, I didn't perspire much. Still, Versafit performed great in the rain. Hearing music and environmental sounds also allowed for a great sense of situational awareness—especially while merging to circle the roundabout at 14th Street and Newport Avenue. Getting a visual over the left shoulder before merging is key, but I found having the environmental auditory cue (checking for the sound of a car approaching) before turning to look helped with efficiency and confidence when merging.
Dubs has also discovered, "I find myself wearing Versafit headphones every time I ski because they are the only headphones that are comfortably thin enough to fit under my ski helmet. Plus, I can listen to music but still stay safe, be aware of what is going on around me and avoid accidents."
Versafit and Bedphones