Sisters Ranger District
A sign to educate shooters in the area
T
he McKenzie storage area west of Sisters is now closed to target shooting Shooting enthusiasts in Sisters will have to find new digs, now that the
Sisters Ranger
District of the Deschutes National Forest closed the McKenzie storage area, a shooting area near the Crossroads subdivision off Forest Service Road 400.
Officials from the Ranger District said it closed the area after several years of complaints about irresponsible target shooting and reports of close calls by stray bullets. Both the
Forest Service
and Deschutes County deputies reviewed the site, determining it was unsafe for target shooting, largely because it lacks an adequate backstop for bullets, and the potential for stray bullets is high, according to a press release. The Ranger District also said there was an effort to educate shooters in the area and ask for voluntary change in habits, but neither of these efforts addressed the public safety hazards created by continued unsafe shooting habits.
"We posted a sign in 2017 and almost immediately after we posted it, the sign was destroyed," Ian Reid, the Sisters District Ranger, told the Source.
Reid said the neighborhood is 655 yards away from the closed shooting site, but the bigger concern was the Jimerson Trail, only 168 yards away. Reid said the McKenzie storage area is used to store equipment and material for the county road crew. Unlike other gravel pits, this one is not a true gravel pit, which typically have large mounds of aggregate, which make for better backstops for bullets and target shooting, Reid said.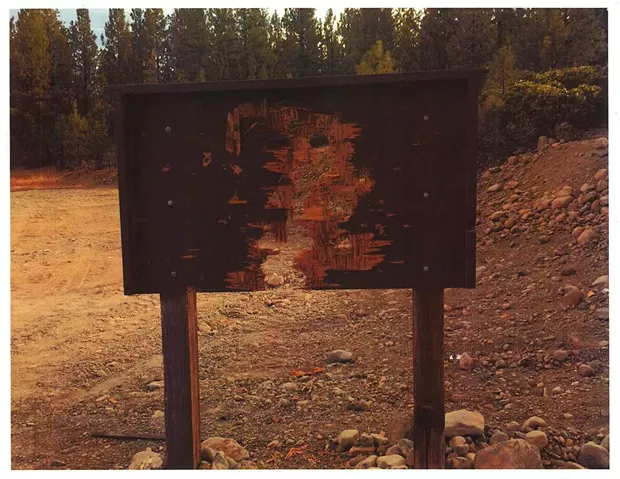 Sisters Ranger District
The same sign after being shot to pieces
Ranger District officials say there are other material pits within a few miles of the McKenzie storage area that have enough backdrops that don't create public safety hazards. Reid said it may take some time for shooters to realize the area is closed.
"We really hope for compliance," he said. "There area some really good options nearby and we hope the public will utilize these options."
The majority of the Deschutes National Forest is open to target shooting, as long as people follow safe shooting rules.