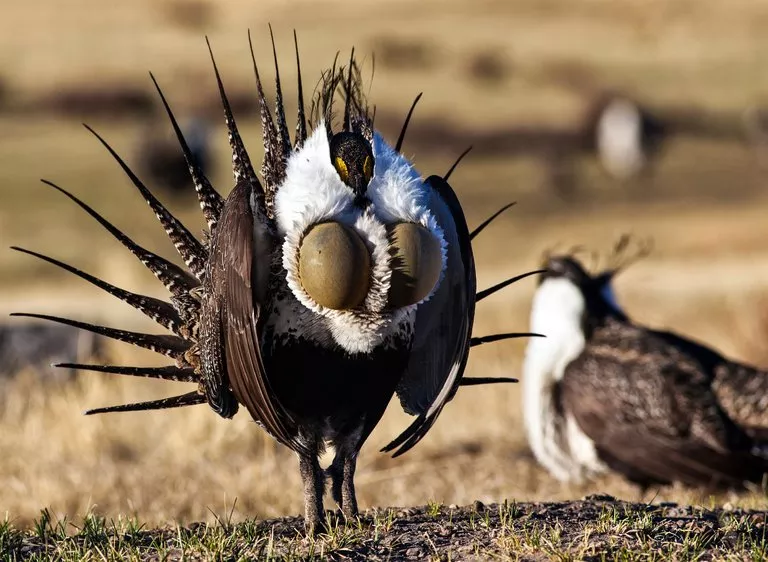 Bob Wick/Bureau of Land Management
O
ne of the most rewarding wildlife projects I'm involved with, from about the middle of June to February, is the East Cascade Audubon Society's Greater Sage-Grouse Conservation Project. From February to the middle of June, my life is dedicated to helping the Oregon Eagle Foundation know more about what's going on with Oregon's Golden Eagles.
OEF is under the leadership of raptor biologist Frank Isaacs, who saved the bald eagle from extinction in Oregon, while ECAS Greater Sage-Grouse Conservation Project is under the leadership of retired Bend MD, Stu Garret. Between Frank and Stu my life is continually rewarding and never boring.
About a month ago Stu got several ECAS members involved with a project carried out by a joint effort of the Bureau of Land Management, U.S. Forest Service and U.S. Fish and Wildlife, trapping mosquitoes in the Brothers/Millican area to see if West Nile Virus was present. Thankfully, that project turned out negative for WNV.
Just recently, 10 ECAS members were again involved with sage-grouse conservation, this time installing about 2,500 markers on barbed wire fences that protect wildlife water guzzlers from livestock encroachment. BLM wildlife biologists thought the top two strands of the fences posed a serious threat to sage grouse as they flew in for water.
The markers were the brainchild of Tom Lawler, who kept the old Central Oregon Audubon Society alive and helped give the organization the new name of ECAS. Tom found some narrow plastic siding, cut it into 3-inch lengths, glued reflecting tape to the flat surface and then clipped the piece over the barbed wire.
It took the ECAS team about a half day to travel from Bend to the guzzler sites, place the short reflectors to the top two wires and get home before the next rainstorm.
W
hile working on the tagging project, the volunteers were rewarded with the sight of 17 pronghorns coming from the guzzler, one sage grouse on its way for a drink, seven cows who would have loved to get to the guzzlers for a drink—but would have destroyed it doing so—and a magnificent "school ma'arm" Ponderosa pine nearby the guzzler site.
(A thought occurs to me... There are certain of us living in Central Oregon, who—when traveling our outback roads—have the insatiable desire to shoot signs so full of holes they're unreadable. Please, if you know any of those sharpshooters, ask them to fight the desire to blast away at the newly installed markers. Those small plastic plates make the difference between life-and-death for the Sage-Grouse.)
The Greater sage-grouse inhabiting the sage brush seas of Central Oregon's Great Sandy Desert are in trouble. In similar habitat in Canada there are fewer than 100 of the same species left in the provinces where they once lived. I have yet to hear the reasons for the terrible declines in habitat.
The sage-grouse of Canada went into decline and never stopped vanishing; the sage grouse in this part of the country started out that way, but conservationists and hunters alike stepped in and made efforts to stop the decline, and are working hard, hoping for victory.
Retired Bend MD, Stu Garrett and his wife, Hilary, attach wire markers to barbed wire fences around guzzlers to keep sage-grouse from colliding with the fences.
M
ore and more is getting to be known about the needs of sage-grouse, thanks to volunteers helping to conduct lek counts. A "lek," is the geographic place on the ground where males of specific areas gather to show their stuff.
Perhaps the most significant impact on the Greater sage-grouse populations in the Great Sandy Desert region was the destruction of thousands upon thousands acres of sagebrush (of all species) for conversion into cow pastures. The worst part of that disaster to our sagebrush country and prime sage-grouse habitat is the agency that carried it out used chemical herbicides to kill the sage brush, and then planted non-native grasses to create cow pasture.
Today, the BLM would like us to believe western juniper crowding the habitat of the sagebrush that's the villain. While juniper isn't the best place for grouse, it is an excellent shelter for deer and elk when the temperature drops to 30-below, and the berries are what the robins from Canada need for food.
The Oregon Department of Fish and Wildlife (ODFW) makes an interesting statement in their information regarding hunting upland game birds. To wit:
"For upland game birds that live in areas with adequate habitat, population size and mortality rate are affected little by regulated hunting. Protection of game birds from hunting will not allow the population to increase. Because of the normally high mortality rate, even without hunting, and because hunting typically is compensatory, upland game birds cannot be "stockpiled" from one year to another. Thus, area or season closures for populations in good habitat are not needed and do little or no good."
It is the opinion of most sage-grouse biologists and managers that the habitat for grouse is not "adequate" and never will be until much of the pasture land on the wild lands is once again sagebrush. Yes, of course there is that segment of the population that suffers death and destruction from weather and predators, but charging a fee for hunters to kill additional grouse seems like "overkill."
Last year, Oregon sportsman killed over 800 grouse legally in answer to ODFW's drawing for tags. ODFW needs the money from the tags, but doing so added more dead grouse to the other numbers who perished from the usual harshness of winter and predators.
According to the final report of the Oregon Greater Sage-Grouse Population Monitoring: 2017 Annual Report, field surveys indicate the sage-grouse spring breeding population in Oregon declined by -7.7 percent between 2016 and 2017, dropping to 20,510 estimated individuals (±1,560 individuals). Magnitude of population trend varied by BLM district analyzed, ranging from a -17.1 percent decline in the Burns District, to a 1.1 percent increase in the Vale District.
Like it or not, wildlife biologists (not employed by ODFW) suggest it's past time to stop killing sage grouse for sport and to balance the budget.
That said, please give serious thought to volunteering to help in lek counts and joining ECAS volunteers in helping to make what habitat sage-grouse have left to be more friendly and safe. Our greater sage-grouse can't say thank you, but a great many volunteer citizen scientists and accredited wildlife biologists will tip their hats to you.
If anyone is attracted to the idea of going out with the ECAS volunteers for the next fence-marking project, mark it down on your calendar for Oct. 14, and give Stu a call: 541-389-6981.