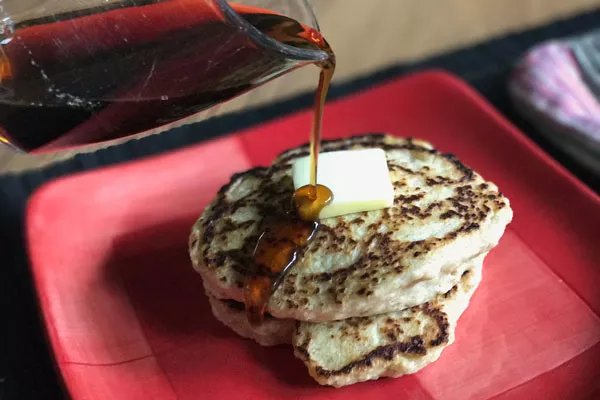 Lisa Sipe
Mmmmmmm soooo tasty you wouldn't even know these were scrounged from the depths of your pantry.
In case you've been living under a rock for the past couple months, the eclipse is happening this week, and the moon coming to block the sun has many of us wondering what will ensue. I know from interviewing the manager at Market of Choice that he's having trouble sleeping at night because he's not sure what's going to happen at his store. With no prior data to look at, he's hoping the store is prepared enough for the onslaught.
If all hell does break loose and the store shelves are empty, what are we going to eat? I looked at my own pantry to see what was possible to make with what I normally have. Now was a good time to look; I really needed to go shopping.
I don't know about you, but maybe I need an apoc-ecliptic emergency to finally use a few items. I mean, I don't even know why I have a can of sardines in mustard. Oh wait, I do remember. My partner picked it out saying it would be really good, yet he hasn't eaten it. Now I wonder if it is delicious—but I'm not hungry enough yet to find out. I also discovered three restaurant-sized jars of pepperoncini. That was my fault; I bought it several times on accident and then didn't use it. If you're wondering, it's a great pizza topping. Try this combo sometime: feta, mozzarella, mushrooms, onions and pepperoncini on pizza dough brushed with olive oil.
If you're lucky enough to have frozen cheese on hand you'll be able to make pizza when you're scrounging for food. Most of us won't be this person; you'll probably be more like me and be happy if you have staples such as flour, sugar, beans, rice, ramen, canned tomatoes, peanut butter, olive oil and pasta. Based on these staple items I put together a days worth of recipes you can make by scrounging food around your house.
Breakfast: Scrounge Cakes
You can still make pancakes when you run out of milk and eggs with this vegan recipe. If you don't have nuts, replace them with additional flour.
1 cup all-purpose flour
¼ cup ground nuts (any kind)
2 tbsp. sugar
2 tsp. baking powder
½ tsp. salt
1 ¼ cups water
1 tbsp. oil
Sift dry ingredients in a large bowl. Stir in oil and water until a little lumpy. Add oil to a sauté pan or griddle and heat to medium-high. Pour batter into the pan and cook until bubbles form. Flip the pancake and cook until it's browned on both sides. Repeat until you run out of batter. If you don't have any maple syrup, try butter and jelly, chopped apples sautéed in butter with a little sugar, or nut butter with sliced bananas.
Lunch: Scrounge Peanut Noodles
1 package ramen noodles
1-2 tbsp. peanut Butter
Sriracha chili sauce (optional)
Cook the ramen per package instructions. When ready, stir in peanut butter, and if you like, add Sriracha to taste.
Dinner: Scrounge Beans Over Rice
1 (28 oz.) can crushed tomatoes
1 (14 oz.) can diced tomatoes
2 (14 oz. each) cans chickpeas
2 tsp. olive oil
1 large onion, finely chopped
4 garlic cloves, minced
½ tsp. salt
½ tsp. ground pepper
1 1/2 tsp. oregano
¼ - ½ tsp. red pepper flakes
Grab a large pan, turn on medium heat and sauté onions in olive oil. When they get slightly transparent, add the garlic and cook for another minute. Add the tomatoes, oregano, salt, pepper and chickpeas. Simmer for 20 to 30 minutes. Do a taste test to see if you need to add more salt or pepper. Serve over rice, quinoa or pasta, whatever you have available. If you have Parmesan cheese, it's an excellent garnish.
This recipe is a great base. Layer more flavor by sautéing the onions with bacon instead of olive oil, or even add sausage. If you've been gardening and are rich in zucchini, chop or grate some and toss it in when you add the tomatoes. If you aren't a gardener, "harvest" and use frozen vegetables from your freezer.
Even if the eclipse doesn't cause a food crisis, it's still a good idea to save these recipes. They can come in handy during a winter storm or any other crazy environmental anomaly—including, but not limited to, a zombie outbreak.