K.M. Collins
From left, Conway Bixby, Chris Caldentey and Kea Eubank hug their handcrafted river surfboards.
Local river surfers could find any old surfboard at a number of commercial retailers—or, they could get a river board created to the specifications of Bend Whitewater Park's beloved Green Wave (second wave down river, looking from the footbridge).
Fifth generation Oregonian, Conway Bixby, hasn't been content riding waves on mass manufactured boards, ever. Rewind to pre-2015, when, although reports are murky, it's rumored a select few river surfers poached secret standing waves in the Bend/Central Oregon corridor (for decades).
It was during that top secret era that Bixby Boards began gestating.
Today, Bixby makes four models of river boards. In order of inception, boards include The Gutter Punk, The Whistleblower, The Bee Keeper and The Hot Saw. All the boards tend to be short, in the five-0 (5 foot) range, something Bixby says is necessary for a tongue-and-groove fit in the trough of the Green Wave.
The Whistleblower (beginner to advanced) is the first board Bixby shaped specifically for the Green Wave. With a round nose, thumb tail and single concave bottom that splits into a double concave through the fins, the board is fast.


The Bee Keeper (intermediate to advanced) is a collaboration piece with river surfer Kea Eubank—"Bee Keeper" being a play on words in homage to Eubank's business, Bee Line Hemp Wick. The board features a swallow tail and more traditional shortboard nose and rocker. "This board is screaming fast and with the wide swallow tail, the board drives through turns like an Indy car, and under the feet of an advanced surfer it spins like a top," explains Bixby.
About the Bee Keeper, Eubank says, "I've been riding Bixby boards for eight years or so and they are always an experiment, continually changing and evolving. With the Bee Keeper, we finally locked down a high-performance board specific to [the Green] Wave."
Bixby credits Eubank for the tail design, including a removable fin which makes the board optimal for tricks. In addition, with Eubank's industry connections, the Bee Keeper is wrapped in hemp as opposed to fiberglass. This, combined with the fact that Bixby's boards are created in part from salvaged insulation castoffs, means the Bee Keeper is made with 80 percent eco-friendly materials and practices.
The Hot Saw (intermediate to advanced) is the newest board in the lineup. At 4 feet 8 inches, this is the no-apologies, all-around high performance shortboard for the Green Wave. Bixby declares, "It out-turns, outruns, and just plain outperforms any other board on the river. I have put everything that I have learned over the past 14-plus years of river surfing and shaping into this board and I couldn't be happier with the outcome."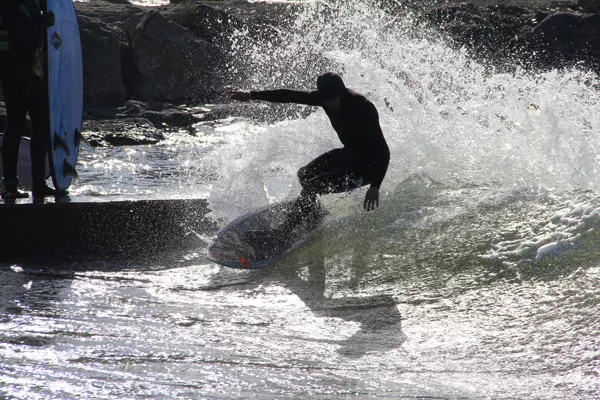 K.M. Collins
Conway Bixby styles the Green Wave on a custom board shaped by his own hands.
Miranda Campbell, also of Bee Line Hemp Wick (and a wicked boogie boarder in her own right) notes the connection between Bixby's family logging history and the Whitewater Park location. "The coolest thing about Bixby is that for I don't know how many generations, his family has been loggers, and that is why he named one of his boards Hot Saw and his logo is a chainsaw, too. And now, full circle, he is making eco-friendly boards to surf in the Old Mill!"
Bixby also custom tailors his designs to a surfer's anatomical needs.
Chris Caldentey, computed tomography technologist by day, said his quiver included the Hot Saw and a custom Bixby board. "After work, I love to wash the day off and get some turns in... Bixby's boards have helped my surfing so much. The equipment is like surf equipment, but it's different. It's nice to have somebody who knows the ins and outs of how the river works making our boards... He's also just a great guy. He'd give you the shirt off his back." Or neoprene off his back?
Under the radar for now, you won't find Bixby through a website. You will, however, find him at the Green Wave, surfing his boards, crew in tow. "This part of the game is all new to me," Bixby claims in reference to being interviewed.
Maybe in five more generations, when river boards are all built eco-friendly by default and newborns learn to river surf right out of the womb, poaching secret standing waves, The Bee Keeper and The Hot Saw will all be part of some epic bedtime stories.
Besides finding them at the Bend Whitewater Park, look for Bixby surfboards on Instagram and Facebook.